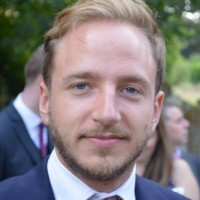 Feedback
AdForum Creative Profiles are currently in beta, let us know if you see anything wrong in this profile.
Report an issue
Worked As
Business Sectors
Awards
2013 CLIO Awards Gold
2013 British Arrows Silver (2)
2013 British Arrows Bronze
2012 Epica Awards Silver
2012 Epica Awards Bronze
2012 Eurobest Gold
2012 Cíclope International Advertising Craft Festival Gold
More
Charlie Smith
Account Director at POSSIBLE
Los Angeles, United States
Summary
Charlie is an Account Director in LA. He began his career in London, working on technology brands like Nokia and Microsoft, before moving into the world of entertainment and helping the BBC launch and deliver their exclusive coverage of the London 2012 Olympics. It was Charlie's combined passion for technology and entertainment that was behind his move to POSSIBLE and LA in 2013. Since then he has been leading various key accounts and client relationships for the office. 
Positions
Account Director
POSSIBLE
April 2013 - Current (1 year 11 months)
POSSIBLE is a creative agency that cares about results. Our mission is simple: create world-class world that works. That's why we back up every idea with hard-core data for solutions that make a measurable difference. With over 25 offices spanning five continents, POSSIBLE boasts some of the best creative minds on the planet. We've used the power of this collective intelligence to transform the industry and elevate global brands like Microsoft, Coca-Cola, and the Bill & Melinda Gates foundation. By design, we are visionaries, innovators and pioneers. If that describes you too, then by all means, get in touch—we'd love to work with you.
Account Director
RKCR Y&R
July 2010 - April 2013 (2 years 9 months)
I worked on our flagship account- the BBC, as well as on campaigns for the UK government, Digital Radio UK, Volvic and iStockphoto a micro-stock library. On the BBC I worked on a career highlight so far - the BBC's trailers, title sequences, theme music and marketing collateral for their exclusive coverage of the London 2012 Olympic games. It was an amazing opportunity to affect the way the whole of the UK experiences the biggest sporting event of our lives . So far the campaign has been given pick of the day/week in Campaign, Creativity and Adweek and our Torch film featured in the opening ceremony. I also led communications for the Future Media division which includes BBC iPlayer, bbc.co.uk as well as Digital Radio. I led the 'Where Next?' innovation campaign which was the BBC's first brand campaign for 5 years. I am immensely proud to have worked on the BBC, and revelled in the opportunity to not only create award winning campaigns but also help communicate the future of the corporation.
Account Manager
McCann Erickson
April 2008 - July 2010 (2 years 3 months)
I worked on Microsoft, Tiffany & Co, and Nestle accounts. For Microsoft and Tiffany I worked with McCann SF and Tiffany in NY to create global work that played out across the EMEA region as well as UK specific campaigns. A highlight was creating the first ever interactive text to screen campaign at a live sport event in the UK during the Rugby internationals. On Nestle Cereal I managed the flag-ship Shreddies 'Knitted by Nanas' campaign that included one of the first FMCG Facebook campaigns in the UK. I was the company's 'mobile evangelist', RAB radio champion, industry charity representative and judge of the national radio awards. I took part in the EMEA academy for the rising stars in the company across Europe.
Skills
Skills
Advertising, Digital Strategy, Integrated Marketing, Account Management, Facebook, Brand Development, Digital Marketing, Strategy, Email Marketing, CRM, Radio, Social Networking, Mobile Devices, Interactive Marketing, Creative Direction, Social Media Marketing, New Business Development, Broadcast
Update my Profile
Popular Works
View All