Feedback
AdForum Creative Profiles are currently in beta, let us know if you see anything wrong in this profile.
Report an issue
Worked As
Creative Director
Art Director
Business Sectors
Newspapers, Magazines, Books
Sportswear
Advertising & Communication
Government & Other Authorities
Household Products & Maintenance
Colleges, Universities & Education Centers
Institutional/Public Interest/Non-Profit Org.
Apparel & Accessories Stores
Health & Pharmaceutical Products
Athletic Footwear
Environmental & Animal Issues
Lottery & Gambling
Human Rights
Plastic Bags, Trash Bags
Racial/Ethnic/Minority/Disability Awareness
Disease Awareness, Support Groups & Associations
Paints, Wood Protectors, Paint Brushes, Adhesives
Milk & Milk Based
Search Engines
Chocolate, Bars, Candies, Chewing-Gum
Prescription Eyewear
Food
More
Cristina Amorim
Creative Director at FCB Brasil
Brazil
Experience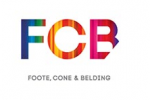 Creative Director
FCB Brasil
São Paulo, Brazil
FCB is filled with a diverse and passionate group of thinkers, creators, technologists and storytellers devoted to creating buzzworthy ideas that change consumer behavior. The global, fully integrated marketing communications agency celebrates local culture, flavor and expertise market-by-market. With over 140 years of communications expertise, FCB's worldwide network spans 150 offices in 90 countries, with 8,000+ professionals. At FCB, we work with a wide variety of clients including Levi's, Dow, HP and NIVEA.
Add Positions
Education
Popular Works
View All