Feedback
AdForum Creative Profiles are currently in beta, let us know if you see anything wrong in this profile.
Report an issue
Worked As
Business Sectors
Awards
2007 International ANDY Awards Silver (2)
2007 International ANDY Awards Gold
2007 The One Show Silver (2)
2007 CLIO Awards Gold
Dan Ruth
Agency Producer at Goodness Mfg.
United States
Positions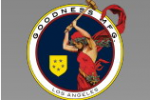 Agency Producer
Goodness Mfg.
Los Angeles, United States
goodness Mfg./Trailer Park is an industry-leading, fully integrated marketing and technology firm. Uniquely positioned at the intersection of branding, entertainment and technology services, the combined agency has quickly grown to over 400 employees.
By combining world class strategy, creative and production capabilities into a single agency offering, Trailer Park/goodness Mfg. is helping clients transform the way they go to market through highly impactful and engaging brand experiences.
Headquartered in Hollywood, CA with field offices in New York, Burbank and London, the agency services leading global brands including Warner Bros., Apple, Twentieth Century Fox, Toshiba Consumer Electronics, Disney, Capital One, AMC, Campbell's Soup Company, Viacom, Vail Resorts, Activision and more.
goodnessmfg.com
trailerpark.com

Add Positions
Education
Popular Works
View All