Summary
It's a long hike from the frenetic bongo beat of Nike's "Tag" to the steady, hypnotic vocals of Nissan's Infiniti "Long Time Dreaming". But for Santa Monica-based Elias Arts' David Wittman, 29, it's all in a year's work.
The Berkeley, CA, native - winner of this year's First Boards composer category and a finalist last year for "Tag", which scored pretty much every award going including the Cannes Grand Prix - is pretty nonchalant about his rapid entrée into the ad industry elite. You'd never know it was his first big spot, nor that he spent half a year persuading company founder Jonathan Elias to hire him in the first place.
It was 2001 and Wittman, a UCLA grad, was working in TBWA\Chiat\Day's broadcast department by day and playing jazz drums by night. Looking to fuse his interests, he found out that a friend played basketball with industry legend Elias, and that was it. Using the tenuous connection, he called Elias. Then he called again. And again. "I called him steadily for six months, two or three times a week," Wittman recalls. Eventually, Elias offered him a job.
Consigned to "bottom-rung" dub-room and delivery tasks at the beginning, Wittman was fast-tracked because, he says, there were no other drummer-DJs in the Elias fold. Shortly after his promotion, Wittman and several of his composer colleagues submitted demos to Nike's agency, Wieden + Kennedy, for its "Tag" spot. His composition got the nod.
Wittman says his fellow musicians helped him out - albeit inadvertently. Within Elias, "there are guys who are dependable for a certain sort of sound," he explains. "They're so talented and well-versed in a medium that I can take a chance from time to time, and we'll still have our bases covered."
Positions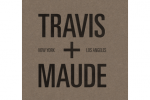 Partner, Creative Director
Travis + Maud
New York, United States
- July 2014
Travis + Maude is a bicoastal music production company.
We offer award winning composition, sound design and music supervision.
We score films, create musically driven digital content, put on shows...
We enjoy ourselves. We push each other.
We get excited when the phone rings.
We listen, write, and play in real time.
We're about creative connections and the power of good ideas.
Add Positions
Education
Popular Works
View All