Feedback
AdForum Creative Profiles are currently in beta, let us know if you see anything wrong in this profile.
Report an issue
Worked As
Awards
2012 Grand Prix Stratégies du Design Prix (2)
2012 Prix du Brand Content Argent
2012 Trophées Marketing Magazine Bronze
Emmanuel Devezeaux de Rancougne
Managing Director at Proximity BBDO
Paris Area, France, France
Summary
More than 15 years at the service of making brands meet and satisfy their ultimate boss: the consumer. After completing a Master in Management from London School of Economics, he started his career in 1998 within Strategic Services competency in Accenture, more specifically with Media & Entertainment clients, where he acquired all the fundamentals of methodology and analytical tools. Throughout his carreer, he has helped clients such as Canal+, France Telecom, Procter&Gamble, to take advantage of new technologies to leverage direct-to-consumer strategies. Leaving strategic consulting to join communication industry in 2005, he is one of the few successful example of such crossovers.
Positions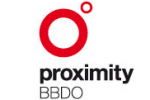 General Manager
Proximity BBDO
Boulogne-Billancourt, France
Update my Profile
Popular Works