Feedback
AdForum Creative Profiles are currently in beta, let us know if you see anything wrong in this profile.
Report an issue
Worked As
Chief Creative Officer
Executive Creative Director
Creative Director
Copywriter
Business Sectors
Video Games/Consoles
Restaurants & Fast Food
Cars
Cable / Satellite Services
Soft Drinks, Tonics
Media, Publishing & Production
Apparel & Accessories Stores
Milk & Milk Based
Beers, Ciders, Lagers
Cheese
TV/Radio Programs & Stations
Political/Religious/Trade Organizations?
Internet Sites (Excluding ISPs)
Online Travel & Reservation Services
Non-Alcoholic
Personal Wireless Communication
Tires, Accessories, Oil, Petrol, Gasoline
More
Eric Hirshberg
CEO, Cheif Creative Officer at Deutsch LA
United States
Experience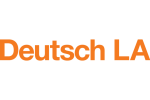 CEO, Cheif Creative Officer
Deutsch LA
Los Angeles, United States
Deutsch LA was born in 1997 as four friends in a tiny office in Santa Monica.
Today, we've grown to more than 460 people. Equal parts integrated advertising and digital agency, we're just as obsessed with great storytelling as we are with technology, experiential, search, and media. Internationally awarded and business results proven, we make everything from Super Bowl TV spots to large-scale dot coms to mobile applications to events, new products, media plans, and business strategies.
Despite our growth, Deutsch LA remains what it's always been - a group of hard-working, independent-minded, and passionate problem solvers who live to build brands and make businesses grow through creativity and technology.
Add Positions
Education
Popular Works
View All