Feedback
AdForum Creative Profiles are currently in beta, let us know if you see anything wrong in this profile.
Report an issue
Worked As
Business Sectors
Awards
2001 London International Awards - LIA Winner (2)
2001 London International Awards - LIA Grand Prize
2000 London International Awards - LIA Finalist (3)
Fábio Costa
at On Media
Brazil
Positions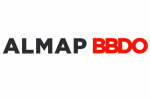 Press Assistant
AlmapBBDO
São Paulo, Brazil
One phrase summarizes AlmapBBDO's 21 years of work: "We think before doing." It represents the natural blend of two strengths, Planning and Creation, which together generate the great communication ideas. Ideas that help brands win the consumer's admiration and preference.
AlmapBBDO does that in a straightforward and simple way, seeking the original insight to be the basis of an idea that conquers the consumer and is capable of changing his or her attitudes and habits. It already did that when there were only four or five points of contact between advertisers and the public. And it does that to date, using the infinite communication channels to reach the consumer.
AlmapBBDO knows how to generate visibility for its clients' brands, regardless of the scenario, occasion, if its in Brazil or abroad. Many of its campaigns are aired and published in dozens of countries. AlmapBBDO's work has won awards that have made of it the most awarded Brazilian agency in the world in 2004, 2005 and 2010, according to the Gunn Report. Since 1994, AlmapBBDO has won 149 Lions at the Cannes Festival. It has continuously been among the 10 most awarded agencies in the world since 1998, when the study started being published. On the Internet, it is also among the most awarded in the world.
Add Positions
Education
Popular Works
View All