Feedback
AdForum Creative Profiles are currently in beta, let us know if you see anything wrong in this profile.
Report an issue
Worked As
Creative Director
Art Director
Copywriter
Creative Team
Business Sectors
Soft Drinks, Tonics
Food
Department Stores, Supermarkets
Shampoos & Conditioners
Milk & Milk Based
Cars
Compact & Small Cars
Banking & Financial Services, Investments, Stock Brokers
Culture, Leisure & Sport
Mobile Telephone & Pager Sets
Energy & Water Authorities, Utilities
More
Awards
2008 British Arrows Diploma
2004 IPA Effectiveness Awards Entrant
1998 Cannes Lions International Festival of Creativity Bronze Lion
Gerry Moira
Chairman, Advertising at Havas Worldwide London
United Kingdom
Summary
Gerry is one of the legends in the ad industry, he started his advertising career as a copy writer at Ogilvy & Mather, before becoming creative director at Publicis.
He has since gone on to win Gold and Silver at every worthwhile award show, domestic and international.
Gerry was lured to Havas Worldwide in 2005.
Experience
Education
Positions
Agencies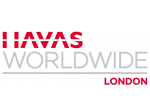 Popular Works
View All