Helene Cote
Chief Creative Officer at RAPP
United States
Experience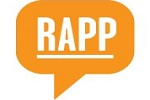 Chief Creative Officer
RAPP
New York, United States
We are the customer experience agency: driven by data, inspired by culture and enabled by technology. We use our 50-year heritage as a powerhouse in direct, relationship and loyalty marketing to create customer experiences that make brands, products and services richer, more intuitive and more fun.
Driven by Data
When used properly, by the right people and with the proper filter, data goes well beyond back-end measurement and prediction. Data is our cradle of creativity and innovation. Data and insights – collectively, RAPP Intelligence™ – is the common theme running throughout RAPP's approach to solve complex business challenges, and it is the source of our competitive advantage.
Inspired by Culture
RAPP has invested heavily in tools and resources that enable us to mine the social landscape to understand consumer culture and how it can be used to create competitive advantage for our clients. By looking at behavior through the lens of culture, we are able to develop highly emotional, highly engaging marketing platforms that are as measurable as they are memorable.
Enabled by Technology
We know that you can't get anywhere without getting technology. It fuels us. In a big, culturally vibrant way. It enables the kind of experiences that bridge current state and desired state.
Add Positions
Education
Popular Works
View All