Feedback
AdForum Creative Profiles are currently in beta, let us know if you see anything wrong in this profile.
Report an issue
Worked As
Business Sectors
James Whitehead
Executive Partner at J. Walter Thompson London
United Kingdom
Summary
James was promoted to Executive Partner in January 2012 jointly leading the agency alongside Russell Ramsey and Joseph Petyan.
Since joining JWT London in 2004, James has had a huge appetite for delivering great work, driving growth and looking for opportunities to create positive change.
James was teamed up with Joe Petyan as Joint Managing Directors in 2010. Their focus together was on transforming the agency's capabilities and talent to provide an integrated offering including shopper, experiential, digital and branded entertainment. He recently oversaw the acquisition of a mobile marketing agency to complete JWT London's dotJWT digital offering.
He has had great success as a UK, EMEA and Global Business Director partnering JWT's Clients in building their brands and businesses, including Diageo, Nestlé, Johnson & Johnson, Kraft and Nokia. He remains hands on with businesses across the agency's client portfolio.
James came to JWT from Saatchi & Saatchi, where he spent two years in Asia as a Regional Business Director on Guinness and SONY and six years in London. During this time he worked on Virgin, Muller Dairy, Lloyds TSB, Cadbury Schweppes, P&G and Allied Domecq, including a two year stint helping to set up Saatchi's Interactive division.
Positions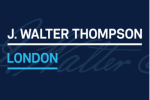 Executive Partner
J. Walter Thompson London
London, United Kingdom
Founded in 1864 and headquartered in New York City, J. Walter Thompson is one of the world's oldest and largest advertising agencies.
J. Walter Thompson London is a full-service agency that provides its clients with: strategic planning, communication planning, advertising, CRM, direct, design, digital, media planning, public relations, promotions/events, social media, analytics, branding, shopper marketing, internal communications and brand journalism.
With nearly 10,000 employees across more than 200 offices in over 90 countries across the globe, we sell more products to more people in more places than any other agency in the world.
Add Positions
Education
Popular Works