Feedback
AdForum Creative Profiles are currently in beta, let us know if you see anything wrong in this profile.
Report an issue
Worked As
Account Director
Account Executive
Executive Creative Director
Business Sectors
Hospitals, Healthcare facilities & Medical Services
Health & Pharmaceutical Products
Wines, Champagnes
Banking & Financial Services, Investments, Stock Brokers
Photo Development
Non-Alcoholic
Windows, Locks, Alarms, Fireplaces, Hot & Cold Ventilation
Public Safety, Health & Hygiene
Skin Care
Consumer & Public Services
Cleaning Products, Soaps, Detergents
More
Jason Brown
at William Harris Advertising
United States
Experience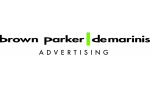 CEO
Brown Parker & DeMarinis Advertising
Delray Beach, United States
Brown Parker & DeMarinis (BPD) has an unparalleled track record of success in helping hospitals across the United States achieve their marketing goals. A perennial Clio, Mark of Excellence (American Hospital Association) and Aster Award winner, BPD boasts a client roster that includes some of the largest hospitals and pharmaceutical brands in the world.
www.bpdadvertising.com
William Harris Advertising
Boca Raton, United States
Add Positions
Education
Popular Works
View All