Feedback
AdForum Creative Profiles are currently in beta, let us know if you see anything wrong in this profile.
Report an issue
Business Sectors
Josh Crick
Director of Digital at David&Goliath
United States
Positions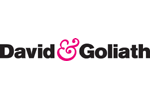 Director of Digital
David&Goliath
El Segundo, United States
David&Goliath is a full-service independent creative agency. We take on Goliath marketing challenges through a media-agnostic approach, and pride ourselves on developing innovative solutions. In an industry that is evolving rapidly, conventional thinking is not enough. We must be willing to create unique, engaging brand experiences. David&Goliath is armed with the knowledge, resources, and firepower needed to build brands in this ever-changing media landscape.
Add Positions
Education
Popular Works