Feedback
AdForum Creative Profiles are currently in beta, let us know if you see anything wrong in this profile.
Report an issue
Worked As
Business Sectors
Ken Mulligan
Head of New Business at Havas Worldwide London
United Kingdom
Positions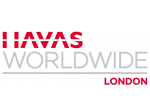 Head of New Business
Havas Worldwide London
London, United Kingdom
Havas Worldwide London is a uniquely integrated agency: we blend advertising, digital, social media, search, channel strategy, retail marketing and PR all under one roof and on one P&L – both locally and internationally.
We believe that effective ideas are much more likely to come from joined-up thinking and execution, without any haggling over individual company P&Ls.
Driving and managing social momentum
Our approach to brand marketing, as a result of our uniquely integrated position, is focused on driving and managing social momentum.
Because of the unique structure and competencies all being in one place and on one P&L, we are able to work with clients to help create brand content that drives positive momentum. But we can also react swiftly and adeptly to help manage negative momentum if and when it occurs.
It is this kind of approach that led to us winning a TED "Ideas worth spreading" award and made us one of the most awarded agencies in the UK over the last couple of years, including awards from D&AD and Cannes Lions.
Add Positions
Education
Popular Works