Feedback
AdForum Creative Profiles are currently in beta, let us know if you see anything wrong in this profile.
Report an issue
Worked As
Strategic Planner
Digital Strategy
Business Sectors
Spirits, Fortified Wines
Soft Drinks, Tonics
Banking, Finance, Law & Insurance
Awards
2013 London International Awards - LIA Bronze
Kris Hoet
Head of Digital at Duval Guillaume Modem
Belgium
Experience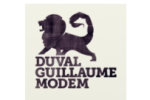 Head of Digital
Duval Guillaume Modem
Antwerp, Belgium
Duval Guillaume Modem is a media neutral advertising agency with a unique methodology to create social currency. Duval Guillaume is part of the Publicis Groupe.
Add Positions
Education
Popular Works