Feedback
AdForum Creative Profiles are currently in beta, let us know if you see anything wrong in this profile.
Report an issue
Worked As
Business Sectors
Awards
2010 International ANDY Awards SILVER
2010 D&AD Awards / Yellow Pencil Yellow Pencil
2009 Cannes Lions International Festival of Creativity Silver Lion
2009 The One Show Silver
2008 The One Show Silver
Maggie Entwistle
at Wieden + Kennedy
United States
Positions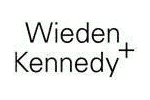 Wieden + Kennedy
Portland, United States
Wieden+Kennedy, founded in Portland, Oregon, in 1982, is an independent, privately held international advertising agency with offices in Amsterdam, Delhi, London, New York City, Portland, São Paulo, Shanghai and Tokyo. A full-service, creatively led communications company, Wieden+Kennedy has helped build some of the strongest global brands, including Coca-Cola, Chrysler, Delta Air Lines, Electronic Arts, ESPN, Heineken, Honda, Kraft, Levi's, Nike and Procter & Gamble.
Add Positions
Education
Popular Works
View All