Summary
My experience lies at the intersection of brand management, corporate communications and social media, with fourteen years experience of managing in-house PR and corporate communications for advertising, marketing and digital agencies on three different continents. Growing a brand through its reputation, and nurturing the culture of an organization, are at the core of how I view corporate communications. I bring a global view to the table, coupled with a strong understanding and adoption of technology and digital media and a passion for content and music and how all the above combine. Currently, as the worldwide head of communications for TBWA – a top-ten global advertising network with 323 offices and 11,100 employees around the world – I am based in New York and manage a diverse and multinational team of specialized individuals within the marketing team, including publicists, event planners and designers. From managing large scale corporate events, internal employee initiatives and training programs, to creating PR strategies for TBWA, our clients' campaigns, managing crisis communications, running the social media across the TBWA and TBWA Digital Arts Network channels and advising the regional offices and subsidiary agencies on communication strategies and best practice, the global scope and rapid nature of the role is what makes me thrive.
Positions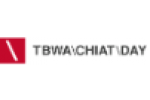 US Public Relations Director
TBWA\Chiat\Day Los Angeles
Los Angeles, United States
TBWA\CHIAT\DAY
As an agency we are continually growing and evolving in response to fast moving contemporary culture, the needs of our clients and a rapidly evolving competitive set. In this context, it's important that we are clear about what we stand for, how we work and what kind of work we want to release into the world. This is less of a creds, and more our perspective on how brands need to behave to succeed in the 21st century, and how we need to work to support that success.
BORN IN THE WEST
At a time when Madison Avenue was the only place for ad agencies to do business, we opened our doors on the West Coast, and have never looked back. Being on the West Coast has always represented a pioneering and optimistic outlook, and more recently has allowed us to connect with the tech culture that stretches from LA to Seattle and is influencing the way the world works.
LOCATE AND INVOLVE
This is how we describe our role in working with brands. It's important for us to understand the purpose each of our brands has in the world, the emotional spaces they occupy in people's hearts and minds, and how they play a role in their lives. Once we understand where they live, then we think about how we can continue to involve them in contemporary culture. The work we're proudest of on the reel is the work that gets picked up by cultural commentators and influencers, so it's clear that its impact stretches way beyond a media buy: from the noise around the Nissan/Amazon partnership to the spoof of the Macklemore stunt, to the labeling of Gatorade as the best TV commercial ever, to the recognition that adidas beat Nike to become the most talked about brand during the World Cup. 
Update my Profile
Popular Works