Mauro Silveira
VP Client Service & Business Development at FCB Brasil
Brazil
Summary
Mauro has a Degree in Business Administration from UFRJ and has worked in advertising for 29 years - 22 of them at Giovanni+Draftfcb. He has also worked at SGB, Fama and JWT. He was Executive Partner-Director at 4x4 Publicidade, an agency created in 2003 to serve Tim Celular. In 2005, he returned to Giovanni+Draftfcb, where he is currently Vice President of Customer Services and New Business in São Paulo. In addition to Tim, he has handled accounts of the size of Embratel, Ponto Frio, Pepsi, Bradesco, Petrobras, Cia. Vale do Rio Doce, Grupo Sendas, CCAA, Sky, Walt Disney, iG, Trip Linhas Aéreas and Gafisa.
Positions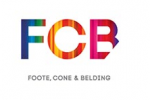 VP Client Service & Business Development
FCB Brasil
São Paulo, Brazil
FCB is filled with a diverse and passionate group of thinkers, creators, technologists and storytellers devoted to creating buzzworthy ideas that change consumer behavior. The global, fully integrated marketing communications agency celebrates local culture, flavor and expertise market-by-market. With over 140 years of communications expertise, FCB's worldwide network spans 150 offices in 90 countries, with 8,000+ professionals. At FCB, we work with a wide variety of clients including Levi's, Dow, HP and NIVEA.
Add Positions
Education
Popular Works
View All