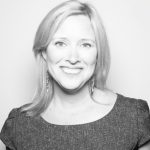 Feedback
AdForum Creative Profiles are currently in beta, let us know if you see anything wrong in this profile.
Report an issue
Worked As
Business Sectors
Molly Parsley
Marketing & PR Manager at AKQA
United States
Summary
Molly Parsley is currently the Director of Corporate Communications at San Francisco-based ad agency Pereira & O'Dell. The agency is owned by Brazilian firm Grupo ABC, ranked 18th among the biggest Marketing Communications groups worldwide by Advertising Age (April 2012). Among the Pereira & O'Dell client roster are Skype, BevMo, Mattel, Corona, Intel, and Henkel. The agency was named AdAge's "Small Agency of the Year", based on the company's business performance, impact on clients' businesses as well as industry leadership and innovation. The agency has also been featured in the SF Business Times "Best Places to Work" as well as 7x7's "Hot 20", a list of San Francisco companies who are making their mark on the city. Most recently, the agency was named to both AdAge and Creativity's A-Lists.
Positions
Education
Popular Works