Feedback
AdForum Creative Profiles are currently in beta, let us know if you see anything wrong in this profile.
Report an issue
Worked As
Group Creative Director
Copywriter
Associate Creative Director
Business Sectors
Small Appliances & Home Accessories
Retail, Distribution & Restaurants
Drugstores, Specialty Stores
Public Safety, Health & Hygiene
Deodorants
Home Appliances, Furniture & Gardening
Department Stores, Supermarkets
Home Furniture
More
Nathan Hunt
Group Creative Director at Deutsch NY
United States
Experience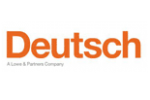 Group Creative Director
Deutsch NY
New York, United States
Deutsch, A Lowe and Partners Company (www.deutschinc.com) is a multi-disciplinary marketing communications agency known for its insatiable culture and ability to drive business results for clients. The collective force of Deutsch's best-in-class services has produced brand-building work for an array of clients including Volkswagen, Microsoft, DIRECTV, Sony PlayStation, Got Milk, PNC Bank, HTC, Unilever, Dr Pepper, Aruba, Novartis Worldwide, and Snapple.
Deutsch Inc. is the North American hub of A Lowe and Partners global network.
Add Positions
Education
Popular Works
View All