Feedback
AdForum Creative Profiles are currently in beta, let us know if you see anything wrong in this profile.
Report an issue
Worked As
Business Sectors
Awards
2011 The New York Festivals International Advertising Awards in All Media SIlver World Medal
2010 Cristal Festival Cristal (2)
2010 The Cresta Awards Winner (2)
2010 Kinsale Shark Advertising Festival Bronze (2)
2010 Epica Awards Silver
2010 Cristal Festival Europe Cristal
2010 Epica Awards Bronze
2009 Prix Club des Directeurs Artistiques Winner (2)
2002 EFFIE France Gold (4)
2002 Grand Prix Stratégies Corporate & Business, Relations Publiques-Relations Presse Mention (3)
2000 Prix Club des Directeurs Artistiques Mention
2000 Epica Awards Winner
More
Patrice Haddad
Chairman & CEO at Première Heure
France
Positions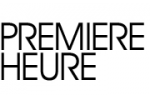 Chairman & CEO
Première Heure
Saint-Cloud, France
Premiere Heure is a creative production laboratory. We scout talent from the worlds of film, photography, music, television and new media and develop it in a spirit of exchange and encouragement. With a strong presence in the fast evolving landscape of digital content and entertainment, we provide an all-inclusive array of facilities, including in house post-production, and sound production. Our art department tracks trends and offers creative insight, so artists and clients can fulfill their aspirations and exceed their goals.
Add Positions
Education
Popular Works