Feedback
AdForum Creative Profiles are currently in beta, let us know if you see anything wrong in this profile.
Report an issue
Worked As
Creative Director
Executive Creative Director
Group Creative Director
Art Director
Business Sectors
Credit Cards
Department Stores, Supermarkets
Frozen food
Soft Drinks, Tonics
Pre-Cooked / Dehydrated Prepared Meals
Anti-Domestic Violence, Sexual Abuse
Non-Alcoholic
More
Patrick O'Neill
Executive Creative Director at TBWA\Chiat\Day New York
United States
Summary
Patrick, originally from Los Angeles, graduated from the Art Center College of Design with a B.A. in Art. As an Associate Creative Director at Deutsch, Patrick contributed on memorable campaigns such as Ikea, Kohler, Oxford Healthcare, Clinton-Gore ?92 (?Reality Check?), and Gallo and Partnership for a Drug-Free America (?My block. My family?). With his partner, Dallas Itzen, Patrick has also created campaigns for AT&T, CNN Headline News, Mystic and the NY Comedy Film Festival, in addition to working on Crunch Fitness and the Dead Comics Society. Working as Co-Executive Director with Dallas, Patrick is responsible for the relevance, impact, integrity and effectiveness of every piece of creative coming out of the New York office.
Positions
Education
Agencies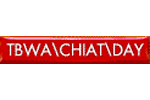 Popular Works
View All