PJ Pereira
Chief Creative Officer at Pereira & O'Dell
United States
Summary
PJ Pereira is Chief Creative Officer and Co-Founder of Pereira & O'Dell with 20 years of experience in the technology and advertising industry. He has been featured Creativity's annual "Creativity 50" featuring those who have made a significant mark on the creative consciousness of our industry. PJ was also named in Advertising Age's "40 under 40" for his bold creative strategies.
A seasoned entrepreneur, PJ has held executive roles both at start up agencies such as AgênciaClick, which PJ also founded, to established international agencies such as AKQA where he was ECD working on global accounts such as McDonald's, Nike, Coca-Cola, Visa, Red Bull, Target and Microsoft.
He has received more than 60 international awards during the last 10 years and has served as President of juries at Cannes Lions, London International and One Show Festivals.
Positions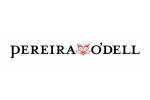 Chief Creative Officer
Pereira & O'Dell
San Francisco, United States
Pereira & O'Dell is an international award-winning advertising agency that combines techniques from traditional advertising, digital, PR and design to create innovative campaigns, programs and products that are in sync with how consumers behave today. We believe our industry's traditional art of storytelling should be combined (not separated) with digital's ability to create experiences worth living on-demand. And with PR's ability of generating free media. And Design's talents to create images that last for decades. When exactly these things ended up getting separated, we don't know. But we are bringing them back together.
Pereira & O'Dell is committed to creating cross-disciplinary campaigns for progressive marketers. The agency boasts an impressive client roster which includes Mattel, Skype, Intel, Henkel (Purex, Soft Scrub), BevMo!, Corona, and Reebok. Pereira & O'Dell was recently named to both AdAge and Creativity's 2013 A-Lists based on the company's business performance, impact on clients' businesses as well as industry leadership and innovation.
Add Positions
Education
Popular Works
View All