Feedback
AdForum Creative Profiles are currently in beta, let us know if you see anything wrong in this profile.
Report an issue
Worked As
Business Sectors
People i worked with
More
Awards
2000 London International Awards - LIA Finalist (4)
2000 AWARD / Australasian Writers and Art Directors Bronze
Simon Corah
at M&C Saatchi
Australia
Positions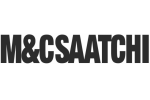 M&C Saatchi
Sydney, Australia
We believe that brands are built off the back of consumers' experiences. It's not just what we say, rather it's how we behave and the impact that this has on consumers' lives that defines their view of a brand.
This belief forms the basis for the M&C Saatchi Group - a confederation of 10 specialist agencies, with different centres of gravity, focused on engaging consumers at each point they encounter a brand. The strength of the Group lies in our centralised Creative, Strategy & Production units and the operating system, which seamlessly brings those teams together. The result, a brand which is stronger than the sum of its parts.
Add Positions
Education
Popular Works