Feedback
AdForum Creative Profiles are currently in beta, let us know if you see anything wrong in this profile.
Report an issue
Worked As
Business Sectors
Stacy Janicki
Director of Account Management at Carmichael Lynch
United States
Summary
Stacy Janicki leads Carmichael Lynch's account management department, which delivers strategic leadership to clients and oversees increasingly collaborative efforts within the agency. With more than 15 years in the advertising industry, her work experience spans many business categories, including retail, consumer packaged goods, outdoor recreation, telecommunications, and healthcare.
Prior to coming aboard at Carmichael Lynch, Stacy served as director of account management at Colle+McVoy, where she was also a member of the senior leadership team. Over the course of her tenure, she helped strengthen and reinvent brands such as Caribou Coffee, the Recreational Boating & Fishing Foundation, ESPN, Old Navy, and Land O'Lakes Dairy Foods.
She has also served in account leadership roles at Campbell Mithun and Martin Williams for clients including General Mills, Anheuser-Busch, ConAgra, Microsoft, 3M, Bruegger's Bagels, and Verizon Cellular.
Stacy has contributed to work heralded by the O'Toole Awards, PRSA, the Webby Awards, the One Show, and Effie Awards. Her work has also been featured on media properties as varied as The Jay Leno Show, the CBS Early Morning Show, PerezHilton.com, ESPN, Communication Arts, Fast Company, and Brandweek.
Stacy received a B.A. in Communications from the University of Notre Dame, where she was a scholarship member of the nationally ranked women's basketball team. While at Notre Dame, she did post-graduate work in the field of counseling psychology. She is co-chair of the Twin Cities 4A's board, and in 2011 the Minneapolis / St. Paul Business Journal selected her as a "Woman to Watch" based on her professional and personal achievements.
Positions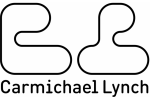 Director of Account Management
Carmichael Lynch
Minneapolis, United States
Our mission at Carmichael Lynch is to create devotion to brands. We build some of the most beloved and iconic brands in the world. Look closer at our client stories, and you'll see a pattern of helping defy gravity for a select and envied portfolio of brands. We achieve remarkable success with creative ideas that work across diverse media and forge an emotional bond and unflagging devotion. In the end, our clients transcend their competition to become not only successful, but a part of American pop culture.
Add Positions
Education
Popular Works
View All