Feedback
AdForum Creative Profiles are currently in beta, let us know if you see anything wrong in this profile.
Report an issue
Worked As
Steve Red
CCO at Red Tettemer O'Connell + Partners
United States
Summary
STEVE RED, president and chief creative officer of Red Tettemer, Philadelphia is an art director who writes and a creative director who has finally learned to creatively direct, instead of just doing it himself. As co-founder of Red Tettemer - the Philadelphia-based indie creative agency - he has helped shape, build and nurture a bunch of marquee brands. He believes people are smart and advertising should be, too, and the only real martini is made with gin. Some day, long after his kids' teenage years, he'll settle down and start painting again, which is what his Dad says he should have done all along.

In his role as Red Tettemer's chief creative officer, Steve touches everything that goes out of the agency's door from a creative and strategic perspective. During his career he's had a blast working on brands including: Adventure Aquarium, Bravo, CNN, Cartoon Network, Comcast, ESPN, Five Below, kajeet, Pennsylvania Tourism, Optimum Online, Optimum Voice, Ringling Brothers and Barnum & Bailey, Roy Rogers, PBS Kids Sprout, Time Warner, Tribe.net, Tween Brands, The Weather Channel and Zany Brainy.
Positions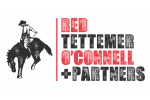 CCO
Red Tettemer O'Connell + Partners
Philadelphia, United States
Add Positions
Education
Popular Works
View All