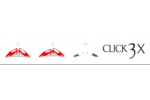 Click 3X,
New York
Update
16 West 22nd Street
New York, New York 10010
United States
Phone: (+1) 212 627-1900
Fax: (+1) 212 627-4472
About Us
Click 3X was founded in 1993 with the goal of being the first digital studio led by artists with great gear and great support. This mantra hasn't changed! With award-winning design, strong visual effects and a visionary animation team supported by one of the most technologically advanced studios in New York, Click 3X brings amazing energy and resources to a variety of projects in all sorts of media for advertising and broadcast clients worldwide. Breaking down walls to create innovative experiences in TV, the big screen and the Web means breaking down the walls between the people who create them. Literally.
In 2009, Click 3X completed the re-building of the studios to expand, adding a live action stage and dedicated audio and music recording facilities with our team of creative directors, filmmakers, and animators.