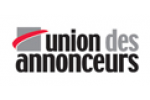 Union des Annonceurs,
Paris
Update
53, avenue Victor Hugo
Paris 75116
France
Phone: (+33) (0)1 45 00 79 10
Fax: (+33) (0)1 45 00 55 79
Philosophy & Competitive Advantages
The Union des annonceurs (UDA)represents the interests of French advertisers in marketing and communications. Its 400 members vary in size (small companies to international groups), are public or private and come from all business sectors. UDA is managed and financed solely by its members. Its actions and services have a single objective: to assist advertisers by representing them in the marketplace and through the organization of events. The UDA supports the interests of advertisers by lobbying, maintaining relations with all actors in the communications and marketing, encouraging better business conditions, assisting its members with personalized services. The UDA is a member of the World Federation of Advertisers (WFA).