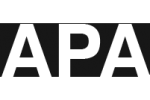 Advertising Producers Association,
London
Update
47 Beak Street
London W1F 9SE
United Kingdom
Phone: (+44) (0)20 7434 2651
Philosophy & Competitive Advantages
The APA is the trade body representing commercials production companies in the UK. It sets recommended terms and condition for engaging crew and agrees the standard form of contract for the production of TV commercials, and other industry contracts, with the IPA. The APA also promotes its members work through its annual event, The APA Show along with providing a range of other services such as training with the APA Masterclass and a telephone advice service for its members.