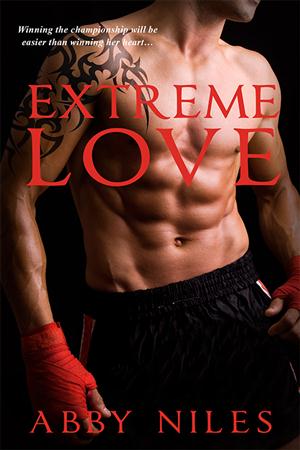 Fort Collins, CO-- Releasing April 30, 2013 from Entangled Select, EXTREME LOVE is poised to be the next breakout novel in women's fiction and resonates with a message of emotional rebirth. Readers who love Lori Foster's best-selling series about MMA fighters will adore Abby Niles' new spin on the hot heroes of this sport—and the spunky women who fall for them.
After winning a lifelong battle of the bulge, life turns topsy-turvy for the book's heroine, Caitlyn Moore. Ultimately, she learns to accept her new body and wardrobe, and finds true love in the process. "My own personal journey was the inspiration for EXTREME LOVE," explains Niles. "I lost 80 pounds. It was extremely hard for me to let go of a mind-frame I'd spent a lifetime with. I'd look in the mirror and there was a smaller version of me looking back, but I still saw every insecurity staring back at me." Niles took this premise and crafted the authentic and relatable Caitlyn, a heroine readers will root for.
Women everywhere struggle with weight loss. A central message in EXTREME LOVE encourages women to find an exercise they love—working out doesn't have to be miserable."It doesn't matter what it is: Zumba, step, combat, running...whatever sweat-inducing activity that makes you smile while you are doing it...find it. Everything else will click after that," says Niles.
Why MMA? It's a hot genre twist that makes a great backdrop for a book. "I adore and respect the sport. These men truly are warriors in their own right and when mega-hottie and extreme fighter, Dante Jones, came to life in my mind, I couldn't think of a better way to entertain readers," Niles adds.
About the book:
EXTREME LOVE by Abby Niles, Contemporary Romance, 293 pages, Print ISBN:978-1-62061-246-0, ePub ISBN:978-1-62061-247-7, from Entangled Select.
About the author:
Abby Niles has always loved to read. After having twins and becoming a stay-at-home mom, she started doodling stories to keep her sanity. She didn't plan for writing to become an obsession, but it did. Today, she juggles a day job, two rambunctious children, and writing.
She's a huge fan of the UFC and Georges "Rush" St. Pierre and is always anticipating his next fight, where he'll defend his title. She also loves Zumba, and refuses to admit she looks more like Animal doing his Muppet flail than a sensual Latin dancer.
Twitter: @abbyniles
Facebook: http://www.facebook.com/abbynilesauthor
Author location:
North Carolina