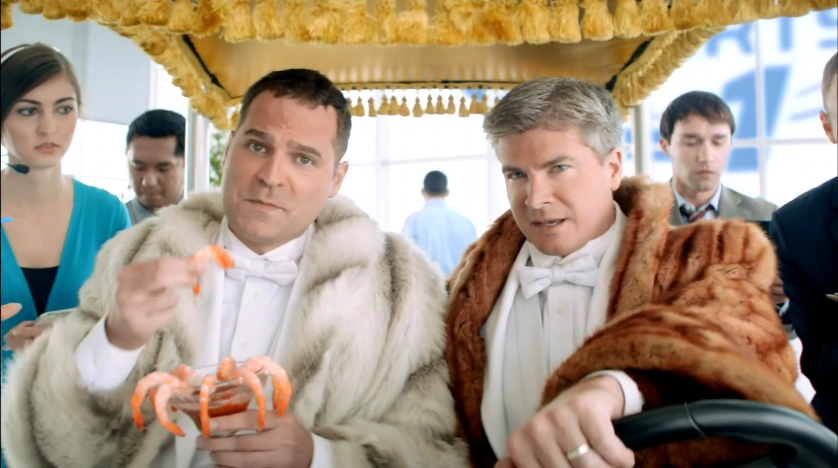 January 31, 2014, NEW YORK -- Fox Sports 1, America's new 24 hour sports network, will be airing a NEW spot for it's FLAGSHIP NEWS show, FOX Sports Live, during Super Bowl XLVIII. The spot stars co-anchors, Jay Onrait and Dan O'Toole, two of the network's breakout stars, taking viewers on an extravagant golf cart tour in the Fox Sports Headquarters where they reveal the "dream team" cast of Fox Sports Live, featuring co-hosts Gary Payton, Andy Roddick, Donovan Mcnabb, Ephraim Salaam and Charissa Thompson.
The spot is a collaboration by Fox Sports 1 and its agency Pereira & O'Dell New York, and directed by Tim K of Gifted Youth (a division of Funny or Die).
"Fox Sports Live is one of our cornerstone shows, and Jay and Dan have quickly built a loyal following. We have big plans for them in the near future." Says Robert Gottlieb, EVP Head of Marketing at Fox Sports.
"It was time to properly introduce Jay and Dan to America, and what better way than during the Super Bowl, on Fox." said Dave Arnold, Executive Creative Director at Pereira & O'Dell New York.
The campaign is supported by OOH around NYC including a spectacular billboard, and wrapped double decker buses.
CREDITS:
CLIENT: Fox Sports 1
Robert Gottlieb, EVP, Head of Marketing
Bill Battin, SVP, On-Air Marketing
Keith Hritz, VP, On-Air Marketing
Chris Stifel, VP, Creative On-Air Marketing
Matthew Waddell, Creative Director, On Air Marketing
Mark Kurtz, Director On-Air Marketing
AGENCY: Pereira & O'Dell New York
Dave Arnold, Executive Creative Director
Cory Berger, Managing Director
Jeff Ferro, Executive Producer
Jessica Friedman, Senior Producer
Kim Svarney, Account Director