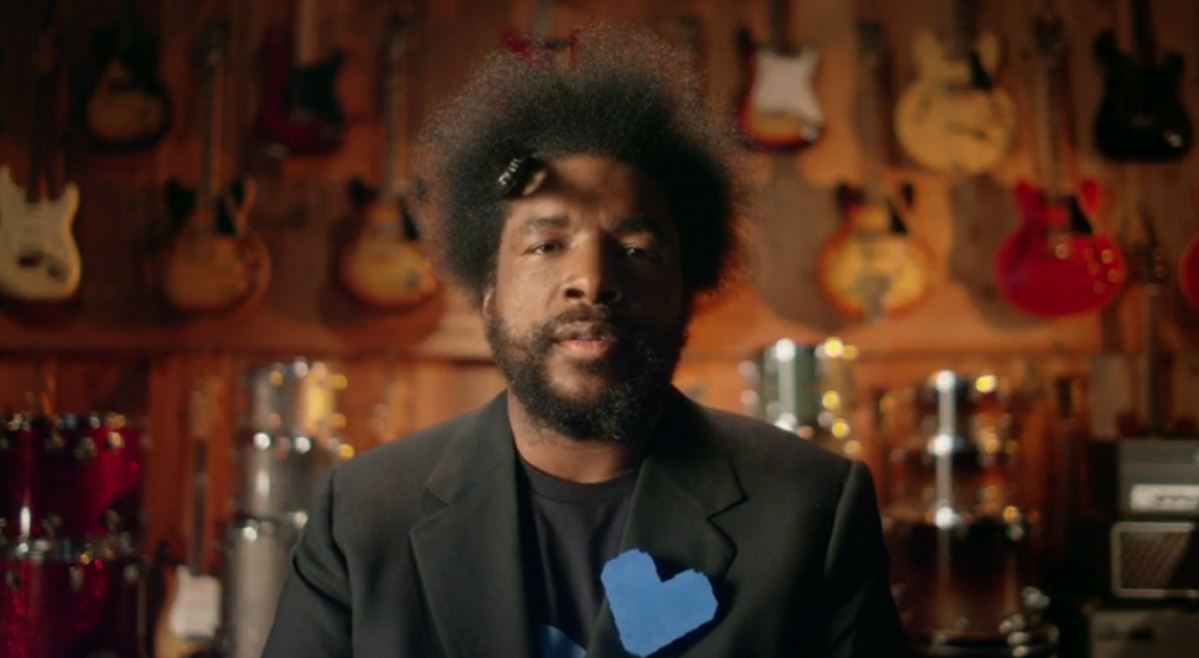 New Brand Message "All We Sell Is The Greatest Feeling On Earth" marks shift in creative direction for music instrument retailer
Campaign to launch February 3, 2014 with commercial spot featuring QuestloveGuitar Center celebrates 50 years of encouraging musicians and non-musicians alike to connect with the inherent joy that comes from playing an instrument
First time the music instrument retailer has launched an inspirational brand-focused campaign
Los Angeles, CA (February 4, 2014): 2014 marks 50 years of Guitar Center helping artists make music. Continuing in this tradition, the retailer is launching a new campaign and tagline entitled "All we sell is the Greatest Feeling on Earth". The campaign will span across broadcast, print and online, with the first TV spot launching on February 3rd, featuring Time Magazine's 2013 "Coolest Person on Earth" Questlove as the campaign's first Ambassador.
With more instant access to entertainment than ever before, consuming music has never been easier, though as any musician knows, listening to music is only half of the story. This new campaign celebrates the inherent joy that comes from playing an instrument and showcases artists in the field that are sharing that joy with others. As the industry leader, Guitar Center values the responsibility to encourage future musicians and to help active musicians take their abilities to the next level; the new campaign tagline was developed with this philosophy in mind.
The music instrument retailer will be rolling out major campaign initiatives throughout the year featuring other genre-defying artists soon to be announced. This level of inspirational brand-focused marketing is unprecedented for Guitar Center.
The campaign came to life in a partnership between International award-winning advertising agency Pereira & O'Dell and Guitar Center's exceptional in-house creative team. The process was truly collaborative, with a strategic approach to combine Guitar Center's in-house production capabilities and credible artist relationships with Pereira & O'Dell's creative leadership to develop the campaign.
Guitar Center remains dedicated to developing a comprehensive scope of original content programming covering broadcast and the web, empowering artists of all types - from the unsigned and the independent to the legendary and established. Additionally, Guitar Center provides a full calendar year of programs developed to inspire non-musicians to pick up an instrument, encourage new musicians to strengthen their skills and provide opportunities for emerging artists to turn their passion into a profession.
"In a space dominated by brand and artist alignment, it's unique to have a retailer partner with an artist to encourage participation in an experience rather than purely purchasing a product," said Frank Hamlin, EVP Marketing at Guitar Center. "Guitar Center doesn't just sell instruments; we sell the greatest feeling on Earth."
"Working with our Guitar Center partners to create the campaign has been an amazing experience. Spend any time in a Guitar Center and you'll find the truth of the campaign is instantaneous, which made the collaboration so rewarding," said Andrew O'Dell, CEO and Co-Founder, Pereira & O'Dell.
About Guitar Center
Guitar Center is the world's largest retailer of guitars, amplifiers, drums, keyboards and pro-audio and recording equipment, with more than 256 stores across the U.S. In addition, the Music & Arts division operates more than 100 stores specializing in band instruments for sale and rental, serving teachers, band directors, college professors and students since 1984. This year marks the 50th anniversary of Guitar Center's historic first-steps to helping people make music. With an unrivaled in-store experience and passionate commitment to making gear easy-to-buy, Guitar Center is all about enabling musicians and non-musicians alike to experience the indescribable joy that comes from playing an instrument. All we sell is the greatest feeling on earth. For more information about Guitar Center, please visit www.guitarcenter.com
About Ahmir "Questlove" Thompson
Drummer, DJ, producer, culinary entrepreneur, New York Times best-selling author and member of The Roots - Ahmir "?uestlove" Thompson, is the unmistakable heartbeat of Philadelphia's most influential hip-hop group. He is also the Musical Director for Late Night with Jimmy Fallon, and soon to be The Tonight Show with Jimmy Fallon, where his beloved Roots crew serves as house band. Beyond that, this 4-time GRAMMY Award winning musician's indisputable reputation has landed him musical directing positions with everyone from D'Angelo to Eminem to Jay-Z. Recently making his way into the culinary world with his signature "Love's Drumstick," ?uestlove began his own culinary quest with off-premise catering, featuring Creole and Korean inspired soul food with a focus on locally sourced ingredients and "on-a-stick" decadence, for hi-profile exclusive events. In 2013, Ahmir also released two books including the New York Times Bestseller Mo' Meta Blues and Soul Train: The Music, Dance and Style of a Generation.
About Pereira & O'Dell
Pereira & O'Dell (www.pereiraodell.com) is an international award-winning advertising agency that combines techniques from traditional advertising, digital, PR and design to create innovative campaigns, programs and products that are in sync with how consumers behave today. The agency was recently named to both Advertising Age and Creativity 2013 A-Lists based on the company's business performance, impact on clients' businesses as well as industry leadership and innovation. Clients include Skype, Airbnb, Intel, Guitar Center, Mattel, Reebok and Fox Sports 1.
FOR MORE INFORMATION PLEASE CONTACT:
Sarah Chavey | FILTER Creative Public Relations | 313.407.7571 | sarah.chavey@filtermmm.com
Molly Parsley | Pereira & O'Dell | 415-696-7757 | molly.parsley@pereiraodell.com
Pereira & O'Dell
- Jaime Robinson, VP, ECD
- Robert Lambrechts, CD
- Brett Beaty, Art Director
- Gabriel Miller, Copywriter
- Gary Theut, V.P. of Account Services
- Kyle Caruso, Account Supervisor
- Judy Kreiter, Producer
- Eric Alexander Hughes - agency editor
Guitar Center
- Frank Hamlin, EVP of Marketing
- Sammy Moir, Director of Television & Radio Production
- Dustin Hinz, Director of Music & Entertainment Marketing
In-House Production: Guitar Center
- Gabriel Olson, Director
- Matt Egan, Director of Photography