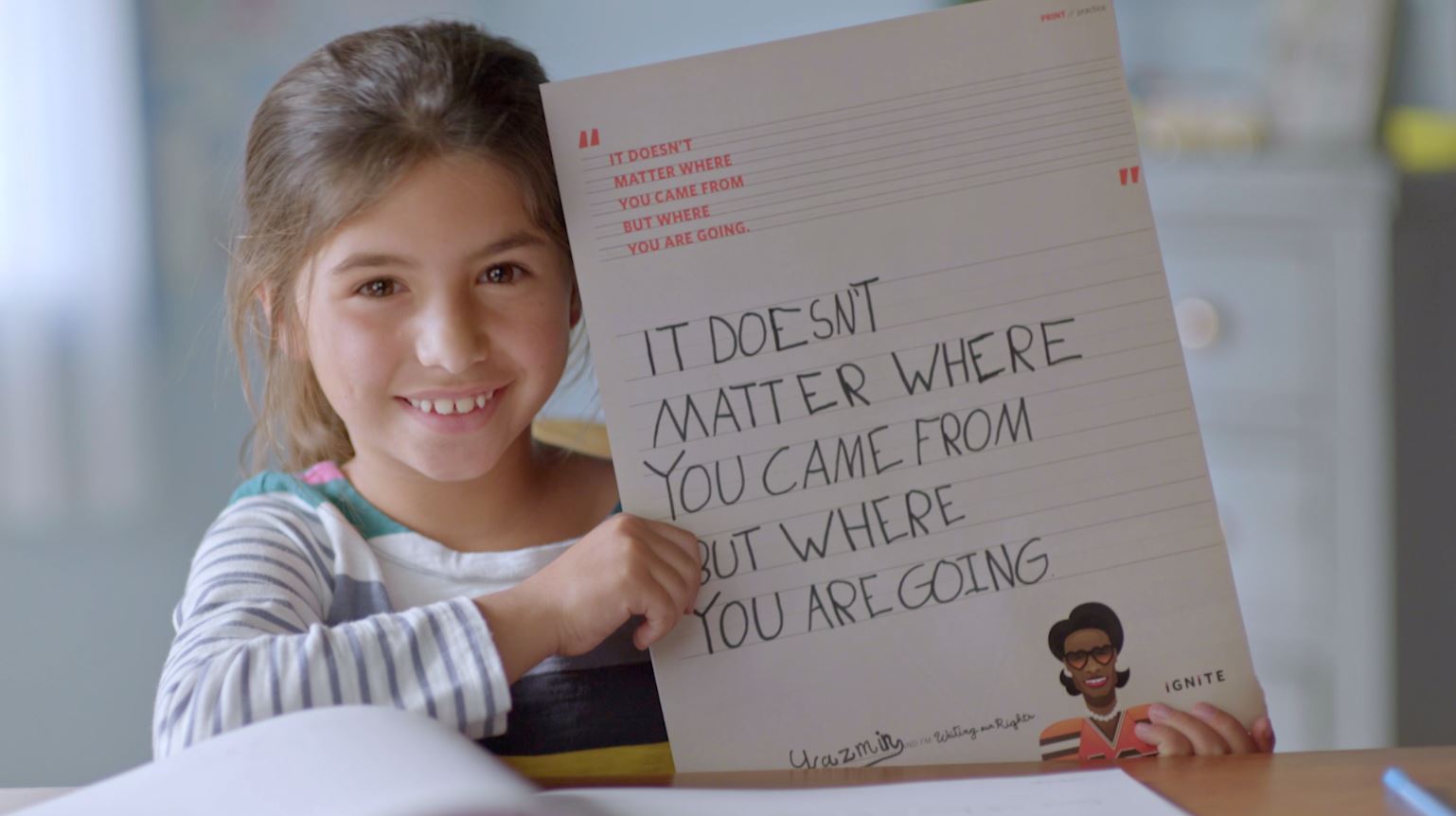 SAN FRANCISCO, CA (April 24, 2017) – IGNITE releases "Writing Our Rights" (www.writingourrights.com), a handwriting workbook for young girls that introduces them to female political pioneers while they practice their handwriting skills.
The workbook uses the words of 10 iconic women: Susan B. Anthony, Condoleezza Rice, Sandra Day O'Connor, Nikki Haley, Ileana Ros-Lehtinen, Shirley Chisholm, Catherine Cortez Masto, Nancy Pelosi, Tammy Duckworth and Hillary Clinton to teach girls more than just how to write. It helps girls realize their potential and inspires them to become the next generation of political leaders.
[WATCH VIDEO] "Writing Our Rights" - https://www.youtube.com/watch?v=lGbgiUb3SNY 
"We believe that introduction to leadership at a young age is as a fundamental as learning to write," said Anne Moses, Founder & President of IGNITE National. "We hope that these words from 10 of the most iconic female politicians in American history will teach girls that they are powerful and capable of becoming political leaders someday too."
Each writing practice contains quotes and excerpts from dozens of powerful speeches. If a leader resonates, perforated pages allow it to be torn out and used as a poster. When a girl reaches the end of the book, she'll find a place to write her own inspirational words. IGNITE believes that when girls are writing their rights, they're writing their future.
Donors who make a gift of $50 or more to this campaign will receive a copy of the limited edition 11" X 14" professionally bound "Writing Our Rights" workbook, as a special thank you for supporting IGNITE's efforts to empower the next generation of women to step into political power. However, the book is available for all to download for free at www.writingourrights.com.
The workbook was concepted and designed by IGNITE's creative partner Pereira & O'Dell.
"Writing is an act of ownership. When these very young women copy these inspiring words with their own hands, they are making it theirs," said PJ Pereira, Chief Creative Officer and Co-Founder of Pereira & O'Dell.
To learn more and receive and/or download a copy, go to: http://www.writingourrights.com
#WritingOurRights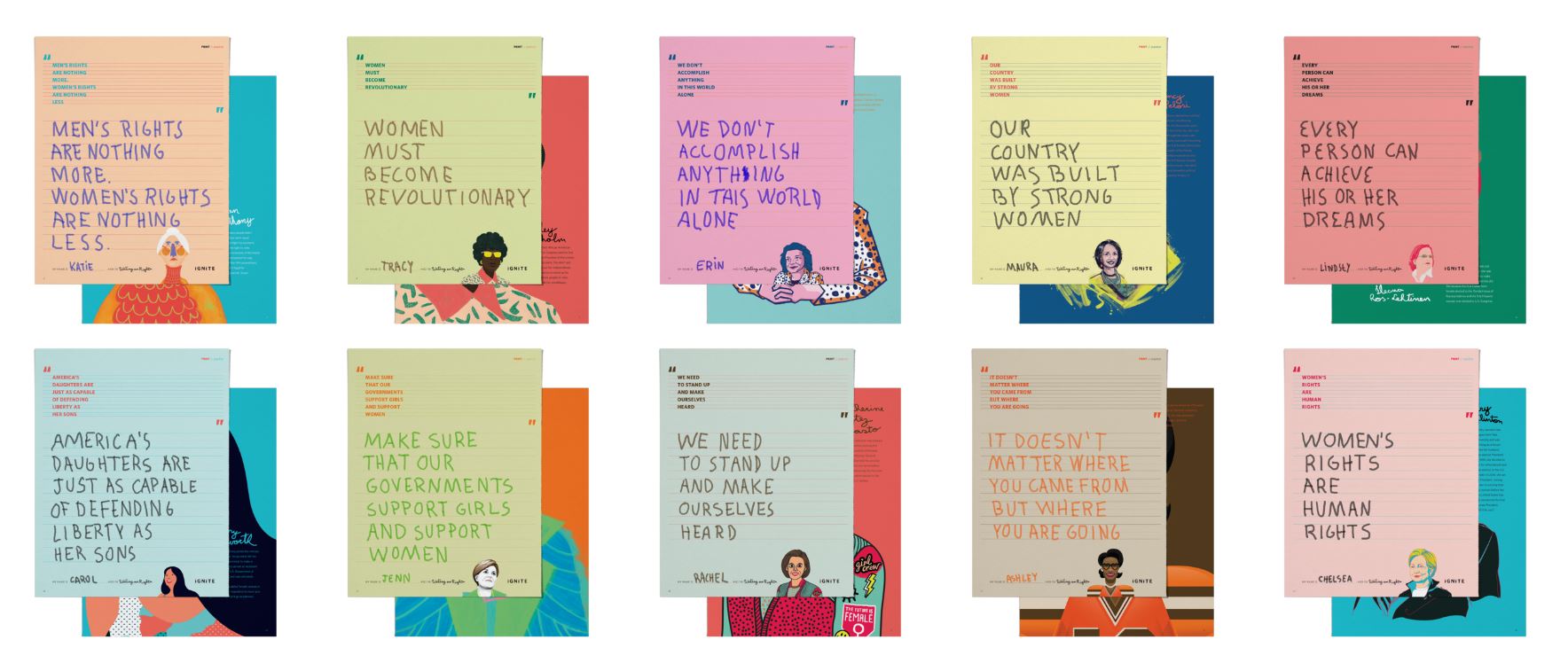 Press Contacts:
Molly Parsley, Pereira & O'Dell, molly.parsley@pereiraodell.com;
Kristin Hayden, Chief Partnership Officer, IGNITE National, kristin@ignitenational.org
About IGNITE
IGNITE is building a national movement to dramatically increase the pool of women who are prepared and eager to become the next generation of political leaders. As a nonpartisan 501c3, IGNITE builds political ambition in high school and college-aged young women in their own communities. We provide civic education, exposure to women in political leadership, hands on training and work opportunities, and a peer network of women who support and nurture each other's aspirations for civic and political leadership. www.ignitenational.org
About PEREIRA & O'DELL
Pereira & O'Dell (www.pereiraodell.com) is an award-winning advertising agency with offices in San Francisco and New York. The agency combines techniques from traditional advertising, digital, PR and design to create innovative campaigns, programs, and products that are in sync with how consumers behave today. Pereira & O'Dell is named by Advertising Age as Standout Agency of the Year, and by Fast Company as one of the "10 Most Innovative Companies in Advertising". Among the Pereira & O'Dell client roster are Coca-Cola, eBay, Adobe, Timberland, Realtor.com, National Geographic, Ad Council, Memorial Sloan Kettering and Annie's Homegrown.
# # #
CLIENT: IGNITE
Anne Moses, Founder & President, IGNITE National
Kristin Hayden, Chief Partnership Officer, IGNITE National
AGENCY: PEREIRA & O'DELL
CCO: PJ Pereira
Executive Creative Director: Rob Lambrechts
Executive Creative Director: Jason Apaliski
Creative Director: Estefanio Holtz
Copywriter: Andre Bittar
Illustrator: Rafaela Teixeira
Illustrator: Bruno Menon
Copywriter: Tracy Silagi
Designer: Carolina Penner
Senior Social Creative: Oscar Nilsson
Group Account Director: Ashley Brown
Account Supervisor: Jessica Zou
Executive Interactive Producer: Erin Davis
Senior Content Producer: Angela Zappella
Senior Print Producer: Owen Bly
Director of Business Affairs: Russ Nadler
Associate Director of Creative Services: Jennifer Carrillo
Director of Communications: Molly Parsley
PRODUCTION COMPANY: Ntropic
Director – Tali Oliver
DP – Cliff Traiman
DP - Ed Ng
Line Producer - Mark Dwyer
Production Designer – Doug Freeman
Talent – Yazmin Gonzalez
EDITORIAL COMPANY: Ntropic
ECD / Founder - Nathan Robinson
Creative Director – Tali Oliver
Designer & 2D Animator – KK Lin
CG Artist – Aaron Townsend
VFX Artist – Ethan Chang
Color Artist – Kristy Navarro
Editor – Sharif Nakleh
Editor – Jack Bibbo
Editor – Regina Rivard
Assistants - Yvonne Pon, Gillen Burch
Sr. Producer - Emily Avoujageli
Executive Producer - Michael Bennett
MUSIC – West One Music Group USA (ASCAP)
Composers – Jonathan Buchanan, Christopher Deighton
Contact/Music Supervisor – Ian Ross
AUDIO: One Union
Voice Over Talent – Sophie Blackburn
Senior Engineer – Matthew Zipkin
Producer - Lauren Mask
XYZ: Prepress, Color, Retouching
PRINTER: Calitho