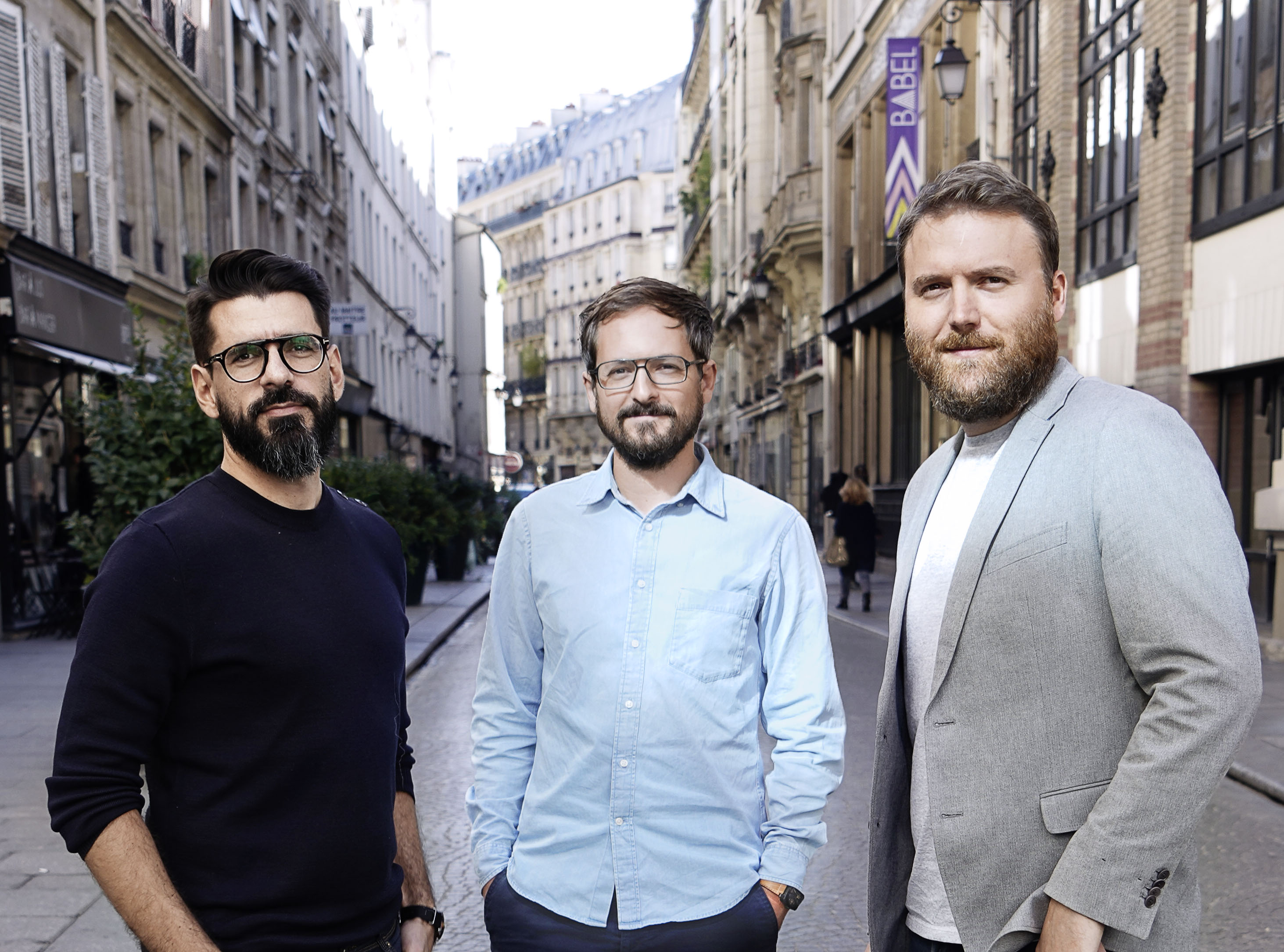 De gauche à droite : Cédric Auzannet, Pierre Duquesnoy, Jean-Laurent Py
Crédit photo : David Ariyel 
En mai 2018 l'agence Babel a annoncé sa révolution créative pour pousser encore plus loin le projet de l'agence – déjà reconnue pour sa pertinence stratégique – et en faire une pépite créative. 
Incarnée par l'arrivée de Laurent Nuyen en tant que Directeur de la Création, cette révolution repose sur la mise en place d'un collectif de Directeurs de création, dont les profils complémentaires viennent répondre aux exigences d'hybridation et d'excellence de l'agence.

Déjà constitué de Delphine Bommelaer et de Laurent Nuyen, ce collectif a été rejoint par Pierre Duquesnoy, puis par Cédric Auzannet et Jean-Laurent Py.

« On a été séduits par le discours des deux Laurent, Habib et Nuyen (et par leur beauté aussi bien sûr) : avec une création plus centrale chez Babel, et l'idée d'un pack de Directeurs de création aux talents différents et complémentaires. Babel est une très belle agence, et une belle marque qui ne cesse de grandir. Le récent rapprochement avec BVA Group va nous apporter une connaissance unique des consommateurs, en termes d'anticipation et de messages. Nous sommes excités de monter sur les barricades de la nouvelle "révolution créative" babélienne. », déclarent les trois nouveaux Directeurs de création.
« Ce pack de 5 Directeurs de création offre à Babel une force de frappe créative de haute volée, unique sur le marché. », ajoute Laurent Nuyen.
Cédric Auzannet et Jean-Laurent Py ont commencé à travailler ensemble chez Publicis Conseil en 2016. Ils accumulent plus de 90 prix internationaux à eux deux, et autant de shortlists.

De son côté, Pierre Duquesnoy, récompensé par plus de 30 prix internationaux, a récemment été classé parmi les 100 créatifs les plus influents par The Creative Pool, notamment grâce à la campagne Pigeon Air Patrol.
• Cédric Auzannet
Cédric Auzannet commence sa carrière en 2001 en tant que Directeur artistique chez Lowe, puis Springer & Jacoby, puis rejoint Grey.
Il participe au renouveau créatif de l'agence qui devient l'une des plus primées en France en moins de deux ans. Puis en 2013, il rejoint Publicis Conseil. Tout au long de sa carrière, Cédric a pu mettre en oeuvre son expertise au service de marques comme Renault, Nescafé, Unicef, Axa, Garnier, Nestlé, Findus ou encore Mercedes et Unilever…
À ce jour, son travail a été distingué par une cinquantaine de prix créatifs nationaux et internationaux (Cannes Lions, D&AD, One Show, NYF Awards, Eurobest, Club des AD…) avec Nescafé et la campagne Really Friends?, H2O Filter pour Unicef ou encore Grand-mère de Findus.

• Jean-Laurent Py

Après ses études de conception rédaction à Sup de Création, Jean-Laurent Py part au Canada et y travaille plus de quatre ans, chez BBR puis Havas Montréal. Il rentre ensuite à Paris pour participer à la création et au développement de l'agence Herezie auprès d'Andréa Stillacci et Luc Wise. Il y reste cinq ans et y devient Associate Creative Director. Il traverse ensuite la Manche pour travailler à Londres chez McCann London, comme Creative Director. Fin 2016, Il revient en France, chez Publicis Conseil.
Jean-Laurent a travaillé pour de nombreuses marques comme Volkswagen, Renault, Coca-Cola, MasterCard ou Subway. Il a aussi eu la chance de voir son travail récompensé de plus de 40 prix (Cannes, D&AD, Andy, One Show, Eurobest, NYF, Clio…), notamment en écrivant Fuck My Life pour une agence de voyages anglaise, en recomposant une musique avec Mark Ronson pour MasterCard The Official Cover, ou en travaillant régulièrement pour Innocence en Danger, sur des campagnes comme La Main ou Real Monsters.

• Pierre Duquesnoy 
Depuis douze ans, Pierre accompagne de nombreuses marques dans le développement de leurs campagnes publicitaires globales.
D'abord Concepteur-rédacteur chez BETC, où il a notamment travaillé sur la campagne des Roller Babies d'Evian, il devient Directeur de création chez Isobar Paris sur Jean Paul Gaultier et l'Oréal avant de partir cinq années à Londres chez Isobar UK et Digitas LBi UK pour être en charge des comptes Kellogg's et Honda Europe.
Multiprimé à Cannes et dans de nombreux concours internationaux, Pierre a récemment été classé parmi les 100 créatifs les plus influents par The Creativepool notamment grâce à la campagne Pigeon Air Patrol.