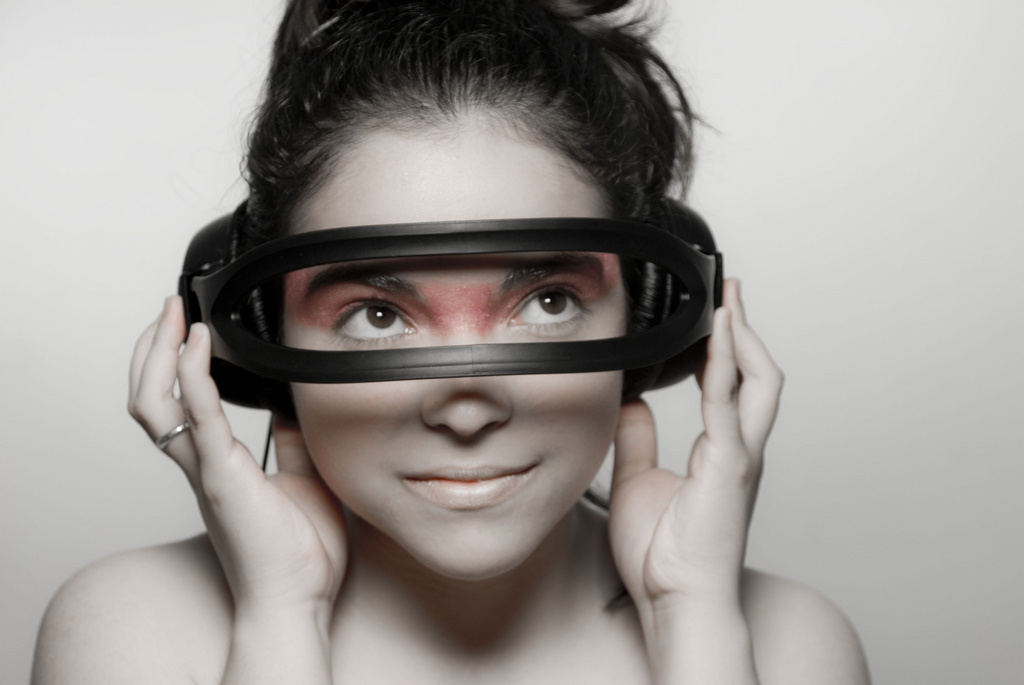 It's the early 80's, and my family is visiting Southern California.
I'm on a soundstage at Universal Studios when a man in an orange jumpsuit pulls me from the crowd and asks if I'm ready to run 60 miles an hour, jump over a building, lift a truck, and save the day. "Are you ready to be The Six Million Dollar Man?"
I am so ready.
And thanks to the magic of late 70's "special effects," I ran sixty-miles-an-hour, jumped over a building, and picked up that truck… one-handed no less.
I was as close to real a cyborg as you could get.
____________
Some thirty years later, I found myself in a room teeming with medical equipment, doctors and nurses assisting in the delivery of my son. After he was born, I registered the sudden quiet of the doctor, saw the subtle alarm of nurses, and heard the blood-freezing phrase, "Mr. Rickey, could you come over here for a moment? We need to talk."
My pulse raced. My mind recalled every congenital malady I knew of—and then I saw the obvious. Much to my surprise, our bright, beautiful bundle of joy was short one ear.
We found out that he was born with a condition called Microtia Atresia / Hemifacial Microsomia. It's a mouthful, but it means: small ear, no ear canal, and a short mandible on one side. Most people call it "microtia" for short.
A flood of emotions and questions hit me in that moment. But one question stood out above the rest. Can we rebuild him?
____________
The answer was simple. Yes.
And this is where things get both interesting and agonizing. Rebuilding my son has involved the meeting place of astounding medical technologies and a question wracked with ethical quandaries and parental guilt: "Are we making the right decisions for the right reasons?"
Our first decision: how should we rebuild the ear itself? The long-standing method involves harvesting rib cartilage; it's invasive and can't be done until grade school. But then we learned about a newer option—a polyethylene plastic implant called Medpor that only requires day surgery and can be done before a child enters kindergarten.
We kept our sons ribs intact and embraced the new technology. A year ago he had an outer ear rebuilt using Medpor. The porous plastic framework allows vessels and skin to integrate with it—to become a living part of his body.
Plastic instead of cartilage. A being with both organic and biomechatronic body parts. Our son is now a cyborg.
But that is far from the end of this story.
The benefit of the Medpor ear is socio-psychological, not functional. He has always had a working inner ear, but not an ear canal. Sounds have to be loud—really loud—for him to hear them in that ear.
This issue puts us on the precipice of determining the next step in his technological evolution.
____________
Pause for a moment and consider how much our personal technology has changed in the five years since his birth.
He was born a year after the first iPad was launched. The same year the iPhone 4S was launched.
In that time we have seen the rise of wearables, and the Internet of Things, and a myriad of other devices that, thanks to progress in technologies like BlueTooth, Wi-Fi, miniaturization and more, have fundamentally changed our world.
The style of hearing aid we are exploring is different than the kind that most people are familiar with. My son has a functioning inner ear; he can process sound—the problem is that he has bone where most people have an ear canal, which means sounds can't reach his ear-drum in the first place. Rather than an air-conduction hearing aid or cochlear implant, he requires a bone-attached hearing aid (BAHA).
Since the first US-approved use of BAHAs in 1997, the tech has progressed considerably. When it was new, the technology produced a result far inferior to normal hearing. Oh how things have changed.
Today, someone with a BAHA can far surpass people with ordinary hearing. Superhuman capabilities.
A BAHA can attach to a smartphone. It allows for adjustments in volume. You can play around with the treble and bass. You can save custom settings for certain locations. It can connect to microphones. Or link to a wide array of devices from televisions to wearable mikes. It remembers every place it's been, and constantly creates a record of how the processor is working. The BAHA can advise your audiologist how it can be fine-tuned and personalized based on your behaviors.
Just as smartphones keep getting smarter, so do BAHAs. They learn.
And since sensors and processors are getting smaller and better by the day (and always have), you can bet that this tech will only get better as well. BAHA-users will continue to be able to hear more, and hear better, than the rest of us.
My wife and I have already made a decision to proceed in treating the hearing loss, and with good reason. Kids with microtia have a high rate of needing to repeat a grade thanks to struggles with hearing loss and self-confidence. The rebuilt ear will make him blend in, which helps where social development and self-confidence are concerned. And a BAHA hearing aid would dramatically increase his ability to hear in a classroom. He has the chance to hear what every other kid hears. In fact, he could have the chance to hear better than other kids.
But there was a catch. There's always a catch.
____________
There's a routine conversation we have in our house that must seem crazy to anyone who doesn't have a child with microtia.
We frequently debate the pros and cons of two methods by which we can permanently attach a BAHA to our son. One way involves driving a titanium screw into his skull and leaving part of that screw exposed to serve as an abutment for the hearing aid. Alternatively, we could opt for surgically lifting a portion of his scalp so that we can drill shallow wells into his skull that, in turn, will serve as placements for magnets that hold the processor in place.
It's a perfectly sensible topic in light of the advantages that both procedures offer to his long-term development and chances at success. Of course, we're talking about drilling into his skull…
____________
As our skull-drilling debates suggest, becoming a cyborg isn't without its invasive issues and some very difficult choices. Self-improvement and mutilation are eerily intertwined.
The recent 2016 Paralympic Games in Brazil brought some of those issues to light when U.S. sprinter, David Prince—a unilateral amputee—vented: "Oh, to be bilateral."
He was watching Greek runner Michail Seitis set a world record for his division in the men's 400-meter final. Seitis came in sixth place out of eight runners—behind five double amputees.
Prince voiced his belief that prosthetics technology has advanced to the point that it's better to be a double amputee than a single amputee—in track and field, at any rate. And he's not alone in asserting that prosthetics have improved so significantly that they are beginning to confer an advantage on those who were previously considered "disabled."
After Oscar Pistorius's performance in the 2012 London Olympics (in the days before his legal notoriety), the International Association of Athletics Federations subtly changed the rulebook—rule 144.3(d) to be exact.
Long story short, the IAAF reversed a policy that forced officials to prove that "mechanical aid" gave an unfair benefit to athletes. Unlike four years ago, the burden of proof now rests with the athletes themselves: "[not allowable is] the use of any mechanical aid, unless the athlete can establish on the balance of probabilities that the use of an aid would not provide him with an overall competitive advantage over an athlete not using such aid."
This shift is a key reason why German Paralympic long-jumper Markus Rehm was not allowed to compete against the 2016 Olympic gold medalist American Jeff Henderson. He could not prove his blade prosthesis did not give him an advantage.
For context, Rehm's personal best would have beaten Henderson by two centimeters. Who knows what he could do if he were bilateral?
Once upon a time, we had to pick up science fiction novels to encounter conflicts between humans and cyborgs. Now, we can leaf through the rulebook they use at the Olympics…
____________
So here's the question we are all going to be asking in the near future: How far will we go to embrace technologies that rebuild us? The technology is only getting better. Quickly. Everyday cyborgs already walk among us. And they have amazing abilities.
And as our population looks to address injury, illness, and the age-old dilemma of old-age itself, the ability to bring our abilities back (and then some) will alter our fundamental assumptions about our own bodies and each other. We'll know blessings and burdens of superhumans intimately.
No "special effects" required.
Russ Rickey is a Strategy Director at Critical Mass. He's spent the last sixteen years leading multidisciplinary teams on delivering strategic insight and creative experiences through understanding his clients' needs, their customers' wants, and the latest in industry trends. He also holds a PhD in Digital Writing and Performance Theory from the University of Calgary.