The organizing committee of Ad Black Sea is pleased to announce the names of members of Film Craft, Branded Content & Visual Storytelling Jury. The jury team, which consists of recognized experts from international advertising industry and cinematography sphere, will assess works of categories such as Film Craft and Branded Content & Visual Storytelling.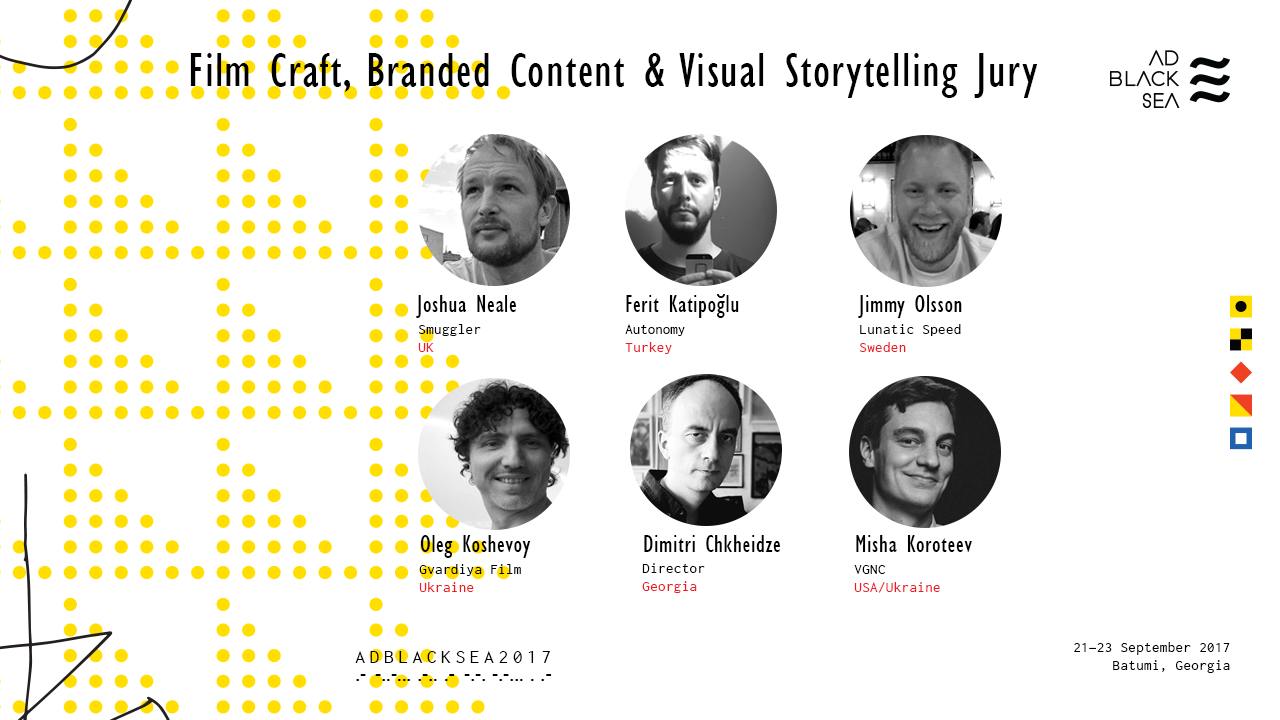 The selected group of industry leaders are:
• Joshua Neale, Director, Smuggler, UK
• Ferit Katipoğlu, Film Director, Autonomy, Turkey
• Jimmy Olsson, Director, Lunatic Speed, Sweden
• Oleg Koshevoy, Executive Producer, Gvardiya Film, Ukraine
• Dimitri Chkheidz, Director, Georgia
• Misha Koroteev, Creative Director, VGNC, USA/Ukraine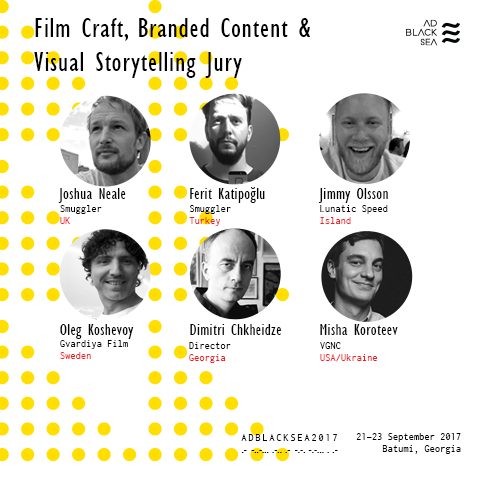 Jury team of Film Craft, Branded Content & Visual Storytelling contests will be updated with a few more jurors, so follow updates at adblacksea.com.
Judging on September 20-21 consists of viewing, discussion, and voting. In the first round, judges consider each entry based on whether they consider it a shortlist candidate. To be in shortlist, a project must get votes from at least 50% of the jury team. After it judges will review shortlisted entries and consider whether they are worthy of being shortlisted only or a possible winner. Then jury members review entries before voting on whether they consider each a gold, silver or bronze winner. After voting, results are read out and juries confirm the decisions.
Final results will be announced at the Awards Ceremony of Ad Black Sea 2017 on September, 23 in Batumi, Georgia.
It is important to remember, that the second entry deadline of Ad Black Sea is on August 31, 2017. After there will be only Last Minute Deadline (till Sept, 8) with extra price for entries' submission.
Ad Black Sea is open for your entries adblacksea.com. Be a part of Ad Black Sea 2017!