The organizing committee is pleased to announce names of the Advertising Campaigns, Media and Out of Home jury. The team includes representatives of the best industry agencies from 6 countries of Ad Black Sea region – Romania, Turkey, Bulgaria, Georgia, Ukraine, Russia – and other European countries – Belgium, Estonia, Poland, Latvia.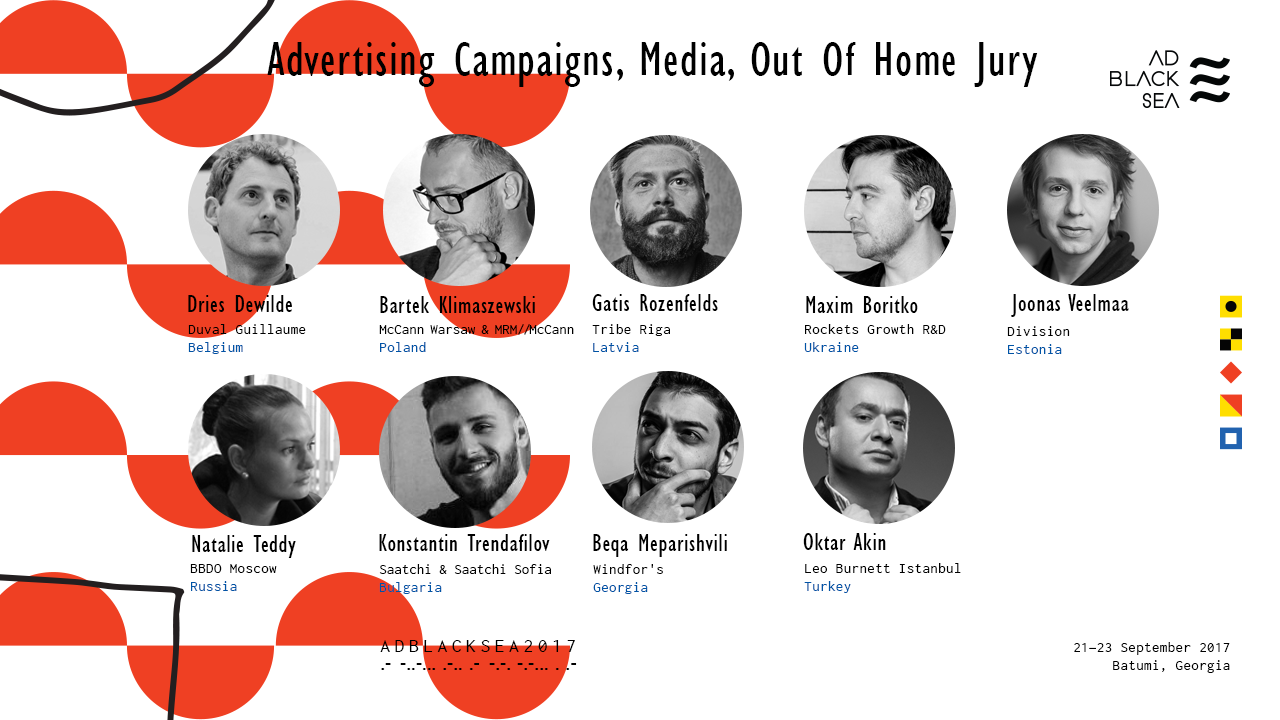 The Advertising Campaigns, Media and Out of Home jury team of Ad Black Sea 2017 includes:
• Dries Dewilde, Creative Director, Duval Guillaume, Belgium
• Bartek Klimaszewski, Co-Creative Director, McCann Warsaw & MRM//McCann, Poland
• Oktar Akin, Creative Director, Leo Burnett Istanbul, Turkey
• Gatis Rozenfelds, Cofounder and Creative Director, Tribe Riga, Latvia
• Beqa Meparishvili, Executive Creative Director, Windfor's, Georgia
• Maxim Boritko, Integrated Communications Practice Partner, Rockets Growth R&D, Ukraine
• Joonas Veelmaa, Creative Director, Division, Estonia
• Natalie Teddy, Senior Copywriter, BBDO Moscow, Russia
• Konstantin Trendafilov, Creative Director, Saatchi & Saatchi Sofia, Bulgaria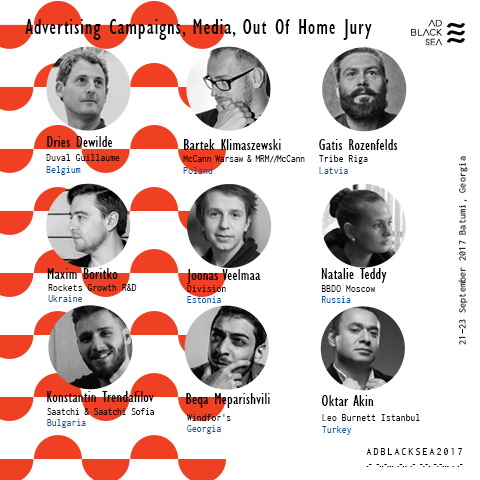 The judging of the festival will take place on September 20-21, 2017 in Batumi. International jury members with diverse experience and numerous awards will meet in Batumi to evaluate the entries and determinate winners. The main criteria of contest evaluation entries will be an original/fresh/inspiring idea and exceptionally well executed.
Organizing committee will announce Film Craft, Branded Content & Visual Storytelling jury team soon, so keep in touch with Ad Black Sea 2017. Jury teams of Film, Radio, Print & Publishing, Design & Branding, Digital & Mobile Jury have been published on festival website.
Dates:
Second entry deadline – 31 August 2017
Festival dates: 21-23 September 2017
Awards Ceremony: 23 September 2017
Ad Black Sea is open for your entries adblacksea.com. If you have any questions, please contact the organizing committee: festival@vrk.org.ua (Kate Grabovska).
See you in Batumi!