R3, an independent consulting firm, assessed 235 M&A deals in the marketing services industry in the first half of 2019. $13.6bn was invested overall, representing a 43% increase in total deal value.
"North America and martech are holding up the M&A market as buyers look for as much certainty as they can get," said Greg Paull, Co-founder & Principal at R3. "It's a scramble for first-party data, and the increased valuation and spend on martech companies reflect that value." 
Holding Companies Watch from the Sidelines
Holding companies have kept the volume of acquisitions for the first half of the year in the low-single digits. WPP and Omnicom made no deals in 1H 2019, while Publicis positioned itself as an outlier in its $4.4bn acquisition of Epsilon. This is the second year in a row where the top 10 list of buyers only featured 2 holding companies.
"The high rollers of marketing M&A continue to be consultancies, private-equity groups and technology companies," said Paull. "Holding companies have their focus elsewhere as they urgently need to work out new business operating models as consultancies edge into the industry and in-housing grows in popularity with clients."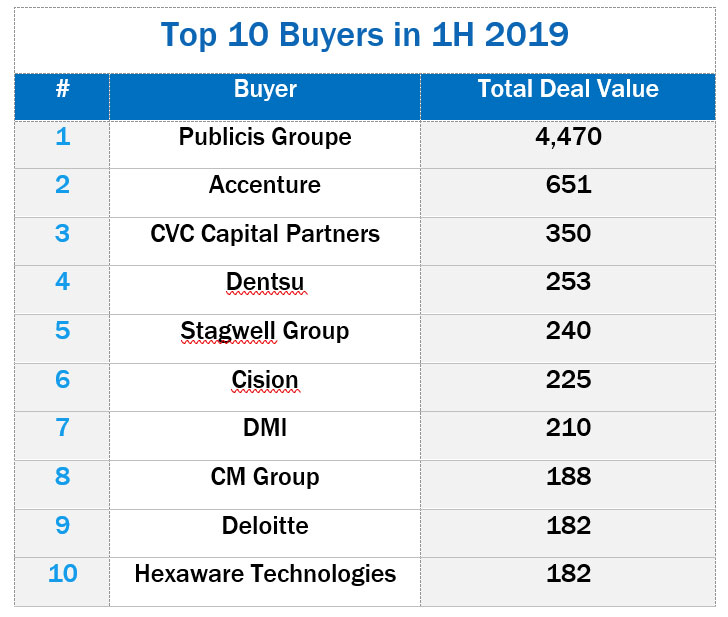 Buyers See Value & Opportunity in Martech
The Golden Age of Martech continues as buyers spent $7.2bn on martech acquisitions alone. This represents a 97% increase in spend on a minimal 7% increase in the number of martech deals made during the same time last year.
"40% of the top 30 acquisitions over the past six months were for martech companies, and buyers were other martech companies looking to expand their stack, or consultancies building their network of services," said Paull.
North American Leads the Charge in Dealmaking, While Buyers Hit Pause on China 
Acquisitions in North America drove deals in 1H 2019, increasing value year-on-year by 54% thanks to a buoyant market.
"With half of the top 30 deals made in the US alone, and 20% of deals transacted within the same region, we're seeing a deglobalization of dealmaking which is happening across industries worldwide," said Paull.
Trade tension between China and the US and tougher refinancing conditions have hit pause on the ambitions of companies looking for growth in China. The value and volume of investments were in the red, as deal value in China dropped to 84% less compared to the previous year, and the number of transactions hit a low of -74%.