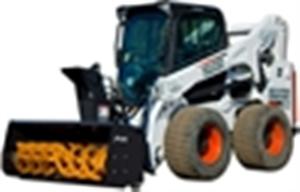 (BELLINGHAM, WA)—A
skid steer snow
blower comes in high-flow and normal flow configurations, depending on the skid steer loader it's hooked up to. But how can you know which one you need?
"It's pretty easy," said Rob Leib, president of Skid Steer Solutions. "If you have a high flow machine, you need the high flow configuration."
Leib says higher hydraulic flow skid loaders can perform better with high-flow skid steer snow attachments. They work harder, can lift more, push more, or in the case of skid steer snow blowers, throw more snow.
"Basically, high-flow machines work harder and faster than normal flow machines because they run at a higher rate of RPM than other attachments," said Leib. "The great thing about high-flow machines is that they can run both normal and high-flow attachments; normal-flow skid loaders can't do that."
Skid Steer Solutions' high-flow
skid steer snow
blower attachments come between 5 – 8 feet wide, and have an 18" motorized auger that feeds the blower. The snow is then fed up through the chute and thrown up to 45 feet away.
Skid Steer Solutions offers a wide variety of winter-tough, high-flow snow blower attachments that come in many sizes and capacities for many different environments. The high-flow snow blower attachments are all specifically designed to attach quickly and easily to any skid steer loader. But if you're not sure which size you need, Leib and his staff are happy to help you figure it out.
Skid Steer Solutions brings to market some of the most innovative skid loader attachments on the market today, like the skid steer snow blower, snow plow, and snow pusher. They build skid steer snow attachments based on customer feedback and customer ideas, and have introduced a number of unique attachments. For more information on the attachments mentioned in this release, visit the
Skid Steer Solutions
website.