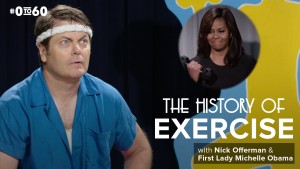 Today, in celebration of the 60th anniversary of the President's Council on Fitness, Sports, & Nutrition (PCFSN) we launched the "History of Exercise" with Funny or Die.
The video, up now on Funny or Die showcases Nick Offerman humorously attempting various fitness trends from decades past with a little help from First Lady Michelle Obama and actress Megan Mullaly.
While fitness has come a long way from electrical muscle stimulators and shake weights, the piece works to underline the importance of adopting a healthy lifestyle – and have fun while doing it!
Working on projects for mission-based clients has always been at the core of who SS+K is and #0to60 is no different. It was truly a labor of love from so many people across our agency and we're proud to be a part of it.
"Offerman, with some help and encouragement from Mullally and First Lady Michelle Obama, tests some vintage exercise machines of the 1950s-'60s, the Thighmaster while listening to (and dressed like the video for) Olivia Newton-John's "Physical," an ab roller to a Cher tune and some CrossFit to One Direction." – YAHOO NEWS
"It's not just about chuckling at dubious gym tools, though. Each era features period fashion and music, as Offerman gradually shape-shifts from mid-century garb and soundtrack to a more current ensemble." – ADWEEK
"Highlights include, but are by no means limited to:
Comedian and actress Megan Mullally, who happens to be Offerman's wife, using muscle shockers to firm up her husband's abs.
Offerman gettin' "Physical" in pink spandex.
The "shake weight," otherwise known as the greatest health contraption ever devised in the last century.
Of course, anyone familiar with Swanson's sick dance moves on Parks and Rec should already know just how much Offerman cares about fitness." – UPROXX
Start your journey from #0to60 here.