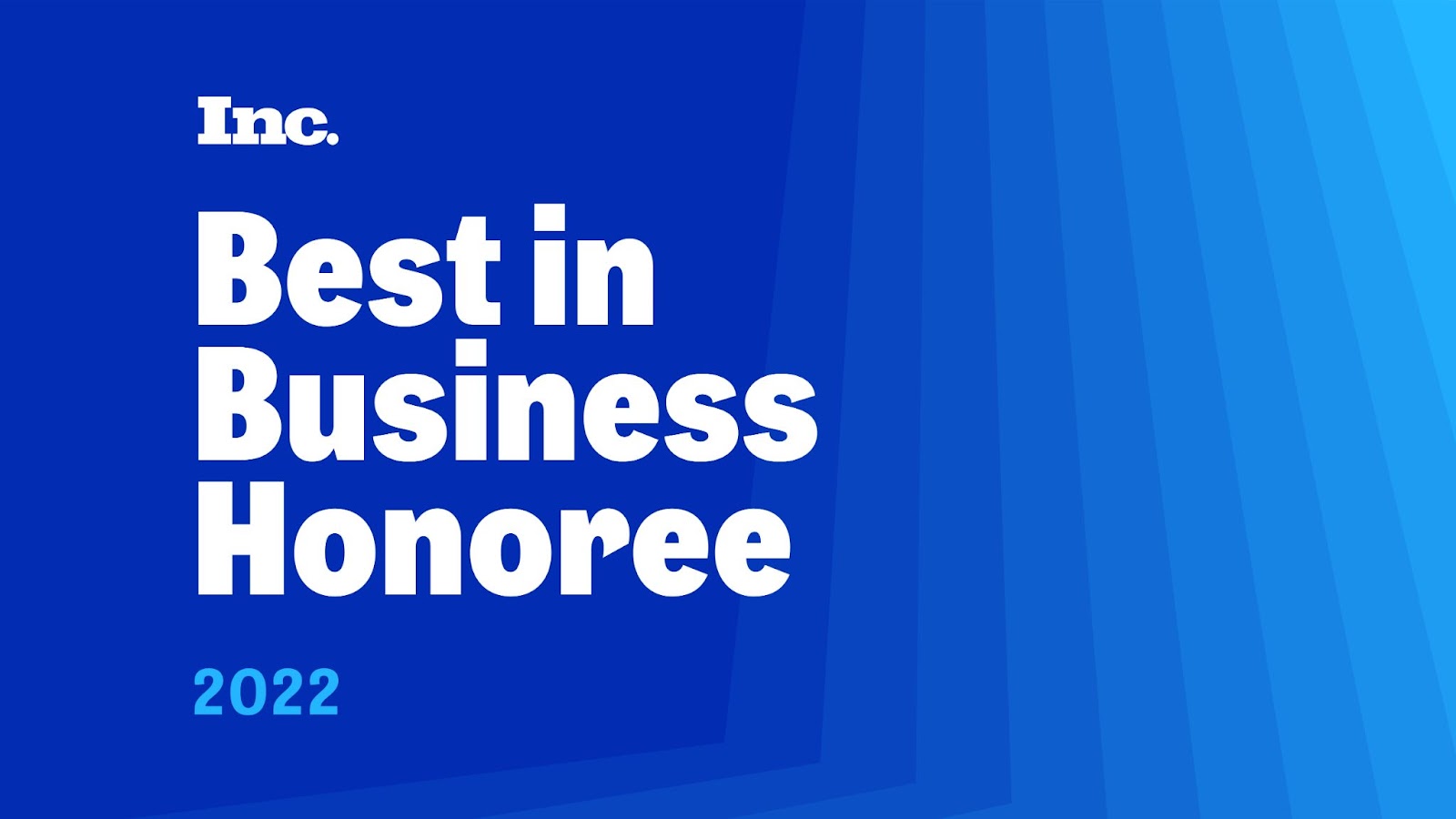 3rd annual list recognizes 241 private companies putting purpose ahead of profit 
Hayden5 has been named to the Inc. 2022 Best in Business list in both the Advertising and Media categories. Inc.'s Best in Business Awards honor companies that have made an extraordinary impact in their fields and on society.  
The list, which can be found in the Winter issue of Inc. magazine (on newsstands December 13), recognizes the most dynamic companies of all sizes and industries that have had an outstanding influence on their communities, their industries, the environment, or society as a whole.  
Scott Omelianuk, editor-in-chief of Inc., says, "Inc. magazine is dedicated to showcasing America's most dynamic businesses and the great things they do. The Best in Business awards shine a light on those that have gone above and beyond their original mission to make a social, environmental or economic impact, benefiting those around them." 
Adds Hayden5 Co-Founder/CEO, Milos Silber, "For almost fourteen years, we've been striving to build a company that manifests our fundamental values around how video should be created, and that is all grounded in organization.  When you're organized, you can be creative, you can scale, and you can deliver consistency.  We're happy to be recognized in both of these award categories. " 
Rather than relying on quantitative criteria tied to sales or funding, Inc.'s editors reviewed the companies' achievements over the past year and noted how they made a positive difference in the world. They then selected honorees in 55 different categories – from advertising to sustainability to retail, and more – and in age-based, revenue-based, size-based, and impact-based categories. The applicant pool was extremely competitive – a huge success for the 241 honored in the list's third year. Honorees for gold, silver, bronze, and general excellence across industries and categories are featured online at inc.com/best-in-business. 
This honor adds to Hayden5's impressive lineup of achievements, including being featured in Fast Company's Most Innovative Companies in 2022, along with wins at the Webby Awards and Telly Awards, all within the past year. Hayden5's technology-driven approach to video content production has been a driving force in this industry recognition, with a deliberate focus on producing the highest caliber video content that maximizes the power of innovative technology and curated local vendors. With a focus on being innovative, unified and methodized, Hayden5 is dedicated to the continued evolution of the video content production process. 
ABOUT INC. 
The world's most trusted business-media brand, Inc. offers entrepreneurs the knowledge, tools, connections, and community they need to build great companies. Its award-winning multiplatform content reaches more than 50 million people each month across a variety of channels including websites, newsletters, social media, podcasts, and print. Its prestigious Inc. 5000 list, produced every year since 1982, analyzes company data to recognize the fastest-growing privately held businesses in the United States. The global recognition that comes with inclusion in the 5000 gives the founders of the best businesses an opportunity to engage with an exclusive community of their peers, and the credibility that helps them drive sales and recruit talent. The associated Inc. 5000 Conference is part of a highly acclaimed portfolio of bespoke events produced by Inc. For more information, visit www.inc.com.
ABOUT HAYDEN5 
Hayden5 is video--elevated documentary, branded content, film and television, narrative, live action, interview, mixed media, virtual reality, broadcast commercials, motion graphics and animation, socials, live and more. We believe the process of making world-class video content should constantly evolve. In an industry that is antiquated, fractured, and unorganized—we are innovative, unified, and methodized.
Our emphasis is on process and craftsmanship from creative, to production, through post. As creatives, we've built custom tools including proprietary software, and service-products like Crew+™, Drop Kits™, and Cloud Cuts™. From viral hits to well-placed media, we manage the entire content lifecycle.
Hayden5 is relationship-driven collaboration. We specialize in curating and deploying production crews and post teams around the world. Our staff of account managers, producers, line-producers, post producers, and technologists engage with directors, cinematographers, videographers, editors, animators, crews and creators of every kind.