---
Every year at the end of June, the world's LGBTQ+ communities join together in an outpouring of solidarity and celebration that often takes the form of vivid and emotional marches. But this year, Pride was a little different. With many countries emerging from lockdown – or still stuck at home – and large gatherings at the very least discouraged, if not forbidden, creativity was required.
Very often, the responses came in digital form. One typical example was the Pride "March From Home" in the Philippines, which took place at 3pm on June 27. As its name suggests, it involved marching – while staying at home. The project was led by Pride@Tech, an association of tech company employees and community volunteers, supported by Google Maps.
All you had to do was log on to the site, choose a virtual route and one of the Pride rainbow colours, and show your solidarity by writing a slogan. You could share your route on social media or make a donation, with all the proceeds going to LGBTQ+ communities affected by COVID-19. According to the website, supporters marched more than 100,000 virtual kilometres.
A slightly different approach was taken by In and Proud, a platform and campaign created by AdamandEveDDB to support the event. Artists were invited to donate illustrations representing "what it means to be in and proud" to a virtual online gallery. The resulting collection is colourful, uplifting and often amusing.
Meanwhile, Clear Channel in the UK turned inside, out by placing images "created by and featuring" members of the community on 1,000 billboards across the country, from June 15 to 28. Each image showed somebody celebrating Pride at home in their own unique way. The campaign was also a call for donations to the LGBT+ Consortium, which distributes funds to "organisations across the UK who provide vital services for the queer community". The film promoting the project has a very likeable narrator.
Of course, it wouldn't be Pride if a few brands didn't get involved, so here's Sprite in a collaboration with currently trendy Animal Crossing: New Horizons. "Outfits of Pride" is a digital fashion collection for characters taking part in the game's own Pride Parade.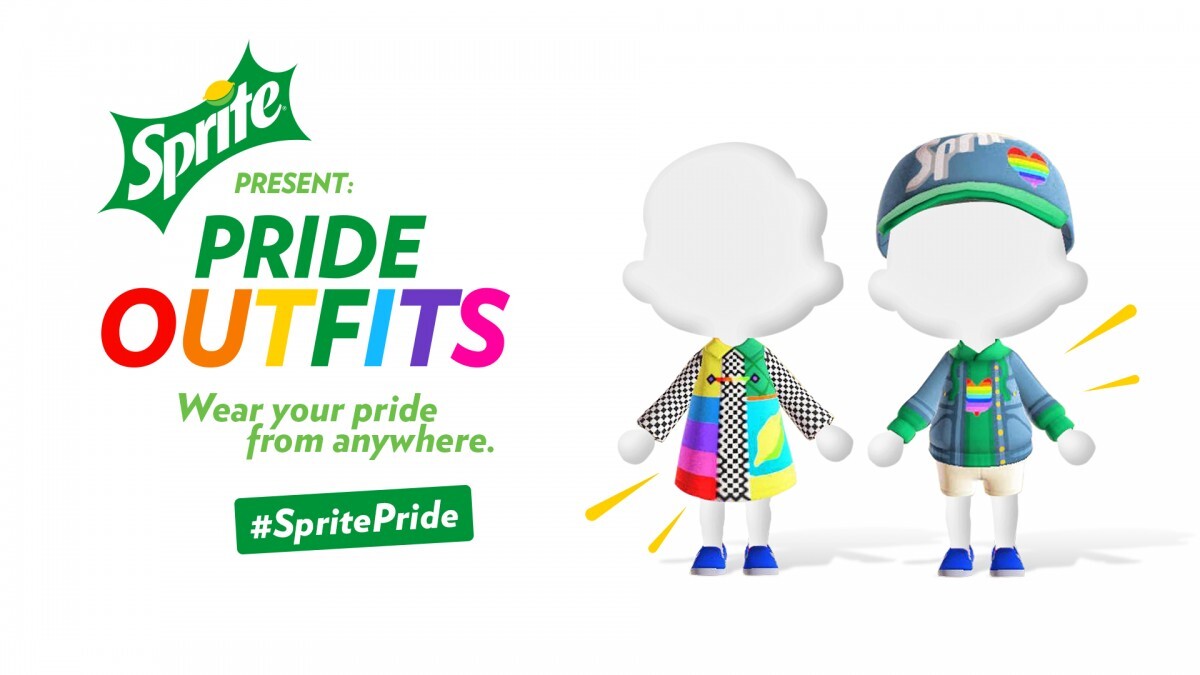 Not to be outdone, here's Pride organiser Interpride promoting its event on Animal Crossing via a spot from We Are Social in Singapore.
A campaign by Wieden+Kennedy New York referenced a local event: the 1969 Stonewall riots – when gay people resisted police who were raiding one of the community's iconic bars. As the resistance is said to have been sparked by a trans woman who hurled a house brick, the agency created a rainbow-toned "Queer Brick". This was auctioned off online, with proceeds going to a charity for homeless LGBTQ youth. The film that promotes it takes a light jab at brands who hitch a ride on the Pride bandwagon.
Finally, returning to the UK, the film "You! We! Us! Me!" by Anomaly urges those who would have attended the giant Pride In London event to show their support by "pledging allyship". This can be in the form of donations, social media posts, community outreach and acts of solidarity. It's well-made, heartfelt and moving.