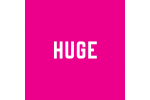 45 Main Street, Suite 220
Brooklyn, New York 11201
United States
Phone: (+1) 718-395-6080
Fax: (+1) +718 625 5157
HUGE Named to Ad Age's 2011 A-List
January 24, 2011
BROOKLYN – HUGE was singled out by Ad Age's prestigious A-List for the second consecutive year. 
Calling us an Agency to Watch in 2011, Ad Age writes:
The Interpublic digital shop had a blowout year that started with the much-hyped digital execution of Pepsi Refresh. Huge built the social-media voting platform for the beverage giant, which has been doling out grants to the most popular community projects posted to the site.
Beyond growing our clientele, 2010 saw HUGE broaden service capabilities, investing heavily in our Mobile and Emerging Platforms division; launching a new Social Engagement practice; and introducing an Audience Monetization department, where HUGE represents digital properties to sell advertising sponsorships and develop branded content partnerships.
HUGE was one of four Interpublic agencies—and among seven digital properties—to be honored in this year's edition. As the premier agency for building digitally-driven businesses, HUGE has exploded from 10 employees in 2005 to 300 personnel across 6 offices and 4 continents today. 
HUGE will continue to develop relationships with the world's biggest companies and brands in 2011.