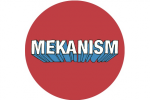 Mekanism,
San Francisco
Follow
Update
640 Second Street 3rd Floor
San Francisco, California 94107
United States
Phone: (+1) 415 908 4000
Fax: (+1) 415 908 9339
About Us
Storytelling for Emerging Media
Mekanism is an award-winning, full service creative agency.
We sprinkle our love of storytelling across integrated advertising, brand entertainment and social media development programs to inspire measurable brand loyalty and drive sales.
Mekanism is an independent company headquartered in San Francisco with offices in New York. For more information visit www.mekanism.com.