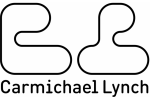 Carmichael Lynch,
Minneapolis
Follow
Update
110 North Fifth Street
Minneapolis, Minnesota 55403
United States
Phone: (+1) 612-334-6000
Fax: (+1) 612-334-6090
Carmichael Lynch and director Martin Granger explore the Tempur-Pedic Innovation Lab
July 1, 2013
Carmichael Lynch launched two new Tempur-Pedic spots on national broadcast, cable and digital video. These spots, filmed by award-winning director Martin Granger, follow Dr. Nicklas Sandström as he explores the Tempur-Pedic Innovation Lab. Sleeping on the job is part of the job at the Lab. In the first spot, we follow Dr. Nicklas as he introduces us to Greta, a professional mattress tester. She sleeps all day, so you can sleep all night.
In the second spot, Love Birds, Dr. Nicklas faces his worst nightmare: Couples sleeping apart. With the help of his strong-willed and strong-armed lab technicians, watch as he attempts to get the couple back into bed together. Broken English and all.