Feedback
AdForum Creative Profiles are currently in beta, let us know if you see anything wrong in this profile.
Report an issue
Worked As
Business Sectors
Mari Tato
Executive Producer at In & Out Production Services
Miami, United States
Summary
Production services representing world'class directores.  New media and platforms have been
part of our productions for over two years, digital productions, viral videos, web
branded content, webisodes, second screen experience, case studies, as well as activations.
All productions are cost effective, maximizing dollars and high production value.
Positions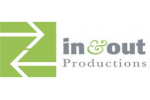 New Business Development/Producer
In & Out Productions
Miami, United States
- Current
World-class directors, production company, all budgets, content, digital, broadcast.
Update my Profile
Popular Works