Morten Tyldum
Director at Einar Film & Fortellinger
Norway
Positions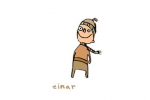 Director
Einar Film & Fortellinger
Oslo, Norway
Originally Morten dreamt of a career as a musician, but he changed his plans when he
was accepted as a student at The School of Visual Arts in New York. When he came back
to Norway he directed several award winning commercials and short films. In 1999 he
was titled "the Movie Talent of the Year" in Dagbladet (Norways biggest newspaper), and he had his feature film debut in 2003, "Buddy". The film became a huge success. In 2011 he followed up his success with "Headhunters". This movie opened a lot of international doors for Morten. "Headhunters" was nominated to a Peoples Choice Award under the European Film Awards, and for best foreign language movie under the BAFTAs in 2012. Morten is currently living in LA and his first Hollywood production, "The Imitation Game" will open London Film Festival in October 2014. Morten is known for his unique narrative skills, something that is also reflected in his commercials. He has a strong visual style and he has a good eye for details. In 2004 he created Einar Film og Fortellinger AS together with producer Guri Neby.
Add Positions
Education
Popular Works
View All