Feedback
AdForum Creative Profiles are currently in beta, let us know if you see anything wrong in this profile.
Report an issue
Worked As
Business Sectors
Awards
2000 London International Awards - LIA Entrant (2)
Steve Manz
Editor at Relish Editing
Canada
Positions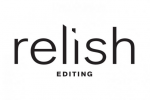 Editor
Relish Editing
Toronto, Canada
With over 20 years of editing experience, Steve is recognized as one of the most versatile editors in Canada. His ability to tell complex stories and create rich emotional narratives is unparalleled. Steve is also famous for his offbeat sense of humour, which he draws upon to build brilliant comedic cuts. In addition to his love of editing, Steve is a coffee aficionado and a dog enthusiast.
Add Positions
Education
Popular Works