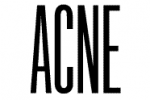 Acne,
Stockholm
Update
Svarvargatan 11, 5 trappor Box 4224
Stockholm 112 49
Sweden
Phone: (+46) 8 555 799 00
About Us
We are an integrated production company. We create digital experiences, commercials, branded content, games, tv & features as well as our own products and brands in any combination, shape or form. This is our work.
Philosophy & Competitive Advantages
Acne is a multidisciplinary family of companies where art and industry meet. Our ambition is to create our own brands and products as well as building brands for our clients.
Network Description
CFP Europe
Trade Organizations
Film & TV Producenterna