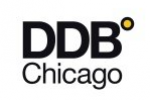 200 East Randolph Street 40th Floor
Chicago, Illinois 60601
United States
Phone: (+1) 312 552 6000
Fax: (+1) 312 5522 370
Founded in: 1949
About Us

We believe that creativity is the most powerful force in business- it stirs emotion, influences minds and builds brands. The combination of brilliant creative ideas and extraordinary results is what sets DDB apart. We are not satisfied to be simply the most creative agency network in the... read more

Agency Type

Advertising / Full Service / Integrated

Core Competencies

Full Service Digital Agency,
Branded Content/Entertainment,
Strategy and Planning

Languages

Parent Company

Network

Holding

Omnicom Group Inc. (New York, United States)

Contacts

Sean McCarthy
Senior VP, AT&T Account Dire..