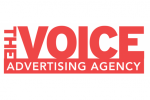 170 Brookfield Avenue
Fairfield, Connecticut 06825
United States
Phone: (+1) 203 296-2800
Fax: (+1) 203 334-0718
Number of Employees: 10
Contact for
- New Business
- Public Relations
Matthew Hallock is the founder, president and creative director of The Voice, a multimillion-dollar, 10-year old advertising agency headquartered in Fairfield, CT. Matthew has a 20+ year career in advertising, primarily at New York City agencies. He is currently a professor of Advanced Web Design at Fairfield University, and has also taught at Yale University, the School of Visual Arts (NYC), and in scores of workshops and seminars.
Under Matthew's leadership, The Voice has built an impressive roster of Fortune 500 clients, primarily in sports and information technology. While it boasts exceptional online capabilities, The Voice delivers the full spectrum of marketing solutions, including print, outdoor, corporate identity and guerilla marketing.
The Voice also has a robust educational component. Dozens of talented art directors, writers and account executives have gone through the firm's structured apprenticeship program. Additionally, the firm is establishing itself as a venue for seminars, workshops and professional education.
Rachel Olivera
Senior Account Manager
Phone: (+1) 203-296-2800
rachel@the-voice.com
FAIRFIELD
since October 2012
Contact for
- New Business
- Human Resources
- Public Relations
Anthony Russello
3D Motion Graphics Animator
Nicole Salamone
Art Director